NEWS
Ashlee's Special Present for Pete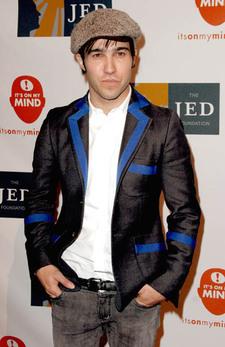 Pete Wentz celebrated a big milestone last week when he turned 30. And true to his reputation as a good husband, he gives props to his wife Ashlee Simpson for his favorite present.
"My wife gave me a pretty creative video, then she gave me the camera she made the video with which was cool," he tells JustJared.com. "It's like a home video and has my son Bronx in it."
Aww!
Speaking of videos, Pete, who's guest-starred on CSI:NY, he says there are some shows he'd like to be taped for.
Article continues below advertisement
"Oh man, I like The Office a lot. There's a lot of shows I like that they probably wouldn't want me on the show but that's alright," he says.
And although this Fall Out Boy is no longer rocking the guyliner look, he's not about to begrudge Adam Lambert a little glamor.
"Big hair and eyeliner have been in forever. Mötley Crüe and The Cure, even Bob Dylan had it for a period," explains Pete. "He's a good singer but I'm like the only person on the planet that doesn't follow American Idol."
True that, Pete.
MORE PETE:
<a href="http://www.okmagazine.com/pixandvids/gallery/14890/1" target="_blank"><img src="https://d-images.okmagazine.com/img/photos/large/31789.gif" height="100"/></a> <a href="http://www.okmagazine.com/pixandvids/gallery/14890/2" target="_blank"><img src="https://d-images.okmagazine.com/img/photos/large/31788.gif" height="100"/></a> <a href="http://www.okmagazine.com/pixandvids/gallery/14890/3" target="_blank"><img src="https://d-images.okmagazine.com/img/photos/large/31787.gif" height="100"/></a> <a href="http://www.okmagazine.com/pixandvids/gallery/14890/4" target="_blank"><img src="https://d-images.okmagazine.com/img/photos/large/31786.gif" height="100"/></a> <a href="http://www.okmagazine.com/pixandvids/gallery/14890/5" target="_blank"><img src="IMAGE HERE" height="100"/></a>