NEWS
Ashley Hebert — Keeping J.P. Rosenbaum Away From His Ex in NYC!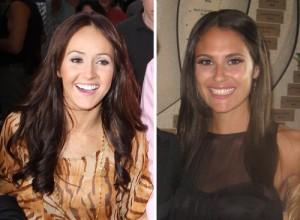 The Bachelorette's Ashley Hebert showed up to The Bachelorette: After The Rose episode on Monday with a new hairdo that we couldn't help but notice resembled new fiancé J.P. Rosenbaum's gorgeous ex-girlfriend, Stephanie Kerman. The former sandy blonde Bachelorette was sporting long dark brunette locks, perhaps hoping that by resembling Stephanie she'll keep J.P.'s attention away from his former love.
Article continues below advertisement
OK! NEWS: ASHLEY HEBERT & J.P. ROSENBAUM WOULD LOVE "BEN, AMES OR RYAN" TO BE THE NEXT BACHELOR
Ashley announced on Monday that she'll be moving to The Big Apple to live with J.P., a New York-based construction manager, after finishing school at the end of the summer.
Ashley has reasons to be worried -- J.P. repeatedly talked about Stephanie on the show, which some thought meant his heart was still with his former love, who also lives in NYC. A friend of J.P.'s even told OK! she once tried to set him up with an Ashley look-a-like, but J.P. declined, saying he wasn't over Stephanie.
OK! GALLERY: J.P. ROSENBAUM IS ALL SMILES WHILE RUNNING ERRANDS IN NYC
"Last year I was going to set him up with this friend of mine, Melissa, who looks just like Ashley," says Victoria Flores, president of Adriana Carador designs and a friend of J.P.'s in New York. "He wasn't ready. He had just gotten out of an old relationship and he wasn't ready to date yet. So he passed on the set-up."
Stephanie, a bubbly New York-based publicist and Minka Kelly doppelgänger, dated J.P. for two and half years after a mutual friend set them up on a dinner date. She has since moved on and has been dating her hedge fund boyfriend Eric for over a year.
Article continues below advertisement
OK! NEWS: J.P. ROSENBAUM JOINS TWITTER POST-BACHELORETTE — "SOMEBODY PINCH ME!"
"You get to a point where you've been dating for x amount of years and there can be love there, and there was and she wishes him the best but she wants them both to end up happy and move on with their lives," Stephanie's best friend tells OK!. "After two and a half years you have serious talks and if you disagree on things and want different things then you get out of a relationship."
OK! PHOTOS: SEE ASHLEY HEBERT'S BLINDING NEIL LANE ENGAGEMENT RING FROM J.P. ROSENBAUM
J.P. and Stephanie were very close with each other's families and J.P.'s mom even brought up Stephanie on an episode of The Bachelorette.
"He makes a mention of her in every episode and so did his mother," the friend says. "I think Stephanie's a little taken back by it. It certainly appears he's had a hard time getting over her. It wasn't this one traumatic event where they broke up and he didn't want it to happen and he was devastated over it. They broke up two or three years ago. When our group of friends watch it or talk about it, we think it's weird as friends."
OK! GALLERY: ASHLEY HEBERT SHOWS OFF HER MAN J.P. ROSENBAUM IN NYC
And as for the J.P.'s claim that he had his heartbroken?
"They might have alluded to a third party, but that definitely was not the case," says the friend. "I can assure you that there was absolutely no cheating going on."
While Stephanie may have moved on, let's just hope there are no run-ins when Ashley moves to the Big Apple!
Check out the two ladies side-by-side — do you think they look alike?