NEWS
Ashley Judd Slams Reactions to Her "Puffy Face": "It's Hatred of Women That Invites the Criticism"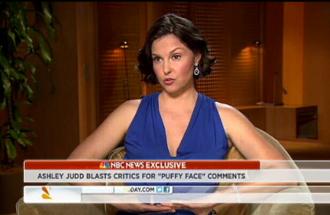 Article continues below advertisement
"I don't think that being a public figure makes it legitimate to criticize people the way they are currently criticized in this cultural climate," Ashley, who turns 44 next week, told NBC News in an exclusive interview. She said she was offended by the "nasty, vitriloic and gloating tone" the comments took and believes that the "objectifcation of women" plays a huge part in why people believe they can poke fun at and critique the bodies of others.
"If I look bad, I've had work. If I look too good, I've had work," Ashley explained. "It hurt me. It hurt my feelings.
"We're taught not to admit how much it hurts," she added of the scrutiny men and women face in today's society. "Just go buy more hairspray, get back to the gym, or buy another butt-clencher exercise DVD — that's how to undo the hurt. When, in fact, that's just contributing to the pain."