NEWS
Ashton Kutcher Is Happy Demi Moore Left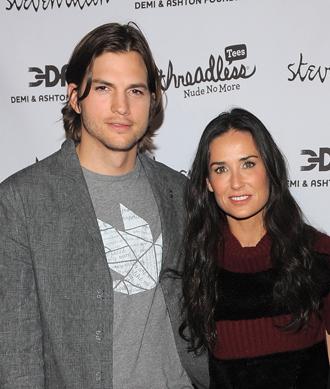 While Demi Moore mourns the end of her marriage, Ashton Kutcher is rubbing salt in the wounds, laughing it up on set, and sources say he's continued hooking up with women half the age of his soon-to-be ex-wife! A source tells OK!, "It's like their seven-year marriage meant nothing to him!"
OK! NEWS: DEMI MOORE & ASHTON KUTCHER RETURN TO TWITTER ON THANKSGIVING
Indeed. Just before Demi announced that she was filing for divorce, friends say Ashton, 33, was crying and begging Demi for another chance. "But now, it's like he just turned off a switch, and Demi's wondering if it was just an act," says the source. "I mean, how could he be in such a good mood and smiling on the set of Two and a Half Men like he doesn't have a care in the world? Ashton is rubbing it in, almost like he's enjoying it."
Article continues below advertisement
People who know the couple say they aren't surprised that Ashton is being less than gentlemanly. Even though pals say his public affairs — one allegedly with 22-year-old Sara Leal on the eve of their sixth wedding anniversary — drove her to leave; Demi, ultimately, is divorcing him.
OK! NEWS: ASHTON KUTCHER CAUGHT LYING — OVER AND & OVER!
"He could be getting back at her, but he's blabbing to anyone that he's glad it's over," a source says. "In fact, a lot of people are saying Ashton is still hooking up with other chicks." Ouch. "He's so insensitive," another pal declares, adding that Demi, 49, dreads seeing Ashton with any more 20-year-old stunners. "He's still young enough that he can sow his wild oats and still become a father in his early 40s. It's so hurtful for Demi, knowing he's going to move on so quickly." Friends tell OK! they're trying to reassure Demi that she's doing the right thing, reminding her that Ashton's brazen philandering forced her into the divorce, but it does little comfort to her, they say.
FOR MORE ON ASHTON AND DEMI'S DIVORCE, PICK UP THIS WEEK'S ISSUE OF OK! — ON SALE EVERYWHERE NOW!