NEWS
Aubrey O'Day Tells 'Clickbait' Paparazzi To 'Stop Abusing Women's Bodies'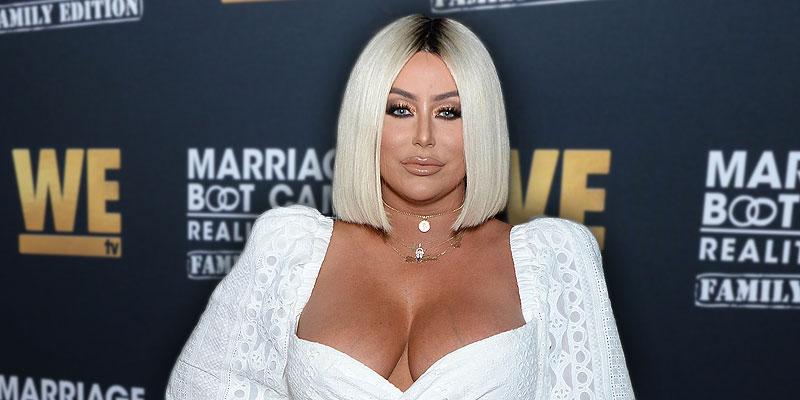 She's still a show stopper! Former Danity Kane songstress Aubrey O'Day posted a photo of herself on twitter wearing a black one-piece swimsuit to stop the haters from "degrading" her.
On August 31, 2020, paparazzi photos of the singer went viral as people called her "unrecognizable" in the new photos - referring to her alleged weight gain - as she strolled the streets of Palm Springs, California with her two dogs.
Article continues below advertisement
The sighting came just a week after the singer posted an advertisement for the Flat Tummy App on her Instagram account that showed her in a sexy swimsuit, which some are alleging was airbrushed.
MILE HIGH FAIL! 'MARRIAGE BOOTCAMP' STAR AUBREY O' DAY TRIED TO HAVE PLANE SEX WITH PAULY D NEXT TO SLEEPING PASSENGER
The blonde beauty fired back on Twitter: "it's so sick what ppl will do for click bait! and that my lawyer needed this photo to defend me against it.. when is this industry going to stop abusing women's bodies! Sorry my place is a mess, currently remodeling my glam room - I'm sure it'll be written that I'm a hoarder next!" she wrote.
The singer held up a piece of paper with the date written on it to prove that the photo was taken on the same day as the paparazzi pics, with the words "this is degrading!"
Naturally, fans of the 'Damaged' singer came to her defense. With one saying: "The sh*t she has to deal with on the regular about her body… especially when it's false information.. I'll never understand the worlds obsession with a woman's body." While another fan commented, "I love you so much Qween. #Aubtorage for lifeee."
Article continues below advertisement
O'Day retweeted a fan, continuing with her rant, saying: "It makes me sick," she said. "I was jamming to Brandy and Monica Verzuz. Started my glam room and BOOM my whole night is ruined!"
The starlet then mentioned that her attorney "has me taking photos with date and time to prove them false. Like, I'm tired of this stupid, shallow, abussive industry."
The 36-year-old pop star had her big break while appearing on the hit music competition show Making the Band in 2004. She was selected to be a part of the iconic girl group Danity Kane. O'Day left the group in 2008, with the girls officially disbanding shortly after. The group briefly reunited in 2013.
DJ PAULY D DUMPS LONGTIME GIRLFRIEND AUBREY O'DAY
O'day's personal life has made headlines as of late when she claimed to have had an affair with Donald Trump Jr. after her appearance on The Celebrity Apprentice in 2012. While on the reality show Ex on the Beach, the starlet admitted that she felt that she and Don Jr. were "soulmates" during their time together.
"I'm sending this message out to you, Don," she said. "Drop Kimberly, she's crazy looking. The White House f**king little fiasco is about to be over, so why don't you come join me in the Ex on the Beach house."