NEWS
Audrina Patridge Promises Her New Show Will Be "Real"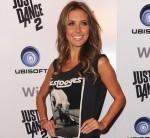 Even after getting the boot from Dancing With the Stars and an unexpected public outburst from her mother, Audrina Patridge seemed in good spirits when she sat down and talked to OK! in NYC.
Audrina came over to the East Coast to launch Just Dance 2 for Wii in Times Square where she hosted a live-streaming dance competition on YouTube using the Just Dance 2 system. When we spoke to Audrina last month she told us that she still wanted to keep dancing after her spot on Dancing With the Stars ended. Looks like Audrina isn't one to lie! Besides dancing, Audrina told OK! what's keeping her busy these days.
Article continues below advertisement
OK! NEWS: AUDRINA'S MOM LYNN APOLOGIZES FOR DISSING LAUREN CONRAD IN VIDEO
If you missed Audrina on DWTS, you'll definitely be able to catch up with her next year when she stars in her own reality show on VH1. What can fans expect from the show?
"Well, it's not going to be set-up. It's going to be my life. I'm really going to open up and take them (my fans) on that journey with me and trying to make it in Hollywood." Audrina tells OK! that viewers shouldn't expect anything like The Hills.
"On The Hills, I was kind of in a bubble. That was my Hills life. This is going to be more about me and what I did when I wasn't filming The Hills with my other friends and with pursuing my career."
OK! VIDEO: AUDRINA PATRIDGE'S MOM LASHES OUT AT LAUREN CONRAD
With filming starting soon, there's a good chance that Audrina's show will debut at the same time Lauren Conrad's new MTV gig starts. Despite the choice words that Audrina's mom used to describe LC, Audrina isn't worried about competition.
Article continues below advertisement
She tells OK!, "I don't think we're competition because we're two different people. Hers is about fashion and she is the reality queen. She's done it for a long time but it's two different shows so… I don't think there's a lot of competition there."
OK! NEWS: DWTS WATCH — AUDRINA PATRIDGE ELIMINATED, GEARS UP FOR NEW REALITY SHOW
Audrina promises that her new show will be "raw" and "real." Set up or not, we're just glad she'll be back on TV!