NEWS
'The Bachelor' Brad Womack Weighs in On Chantal O'Brien Slap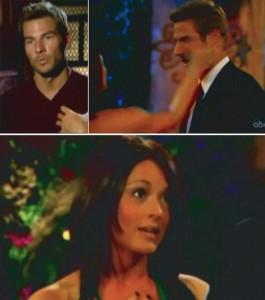 Brad Womack knew the risk he was taking by returning for round two as The Bachelor, and the slap in the face he received on Monday night's premiere confirmed his concerns. But Brad doesn't want the contestant, Chantal O'Brien, prosecuted for her blow. After all, she was just a "messenger" for "every woman in America."
Chantal, 28, — a native of Mercer Island Washington who works as an executive assistant at the headquarters for her dad's Auto Group chain — gave Brad a solid five-star across his cheek as she greeted him out of the limo, taking the hunky bachelor by surprise.
Article continues below advertisement
OK! NEWS: AMBER PORTWOOD HAS CUSTODY OF LEAH; GARY SHIRLEY WANTS NO CONTACT ORDER LIFTED
The slap gave rise to concern about violence on reality TV — most recently the domestic violence case of Teen Mom star Amber Portwood who is being prosecuted for beating her daughter's father, Gary Shirley.
"I think Chantal was just trying to make a statement about my past behavior and make a strong first impression, which she did," Brad told TMZ of the slap, as he was leaving the season 15 premiere party last night."I think what Chantal did was a lighthearted gesture which I took as such. I do not condone violence in any relationship, nor would I keep someone around who I felt truly wished to do me harm."
While Brad described the slap as "very real and very hard," he also explained he did not want Chantal prosecuted because he "deserved" it.
And it looks like the feisty contestant certainly caught Brad's attention, as she received a rose during last night's ceremony.
Famed celebrity lawyer Gloria Allred also held Brad's view, sharing with TMZ a legal perspective on why Chantal should not be prosecuted for criminal battery.
Article continues below advertisement
"Sex and violence are often used to sell and promote shows," Gloria said of the reality show, calling the slap "a promotional vehicle."
As for Amber's abuse of Gary, Gloria explained the situation as "multiple violent and physical fights in the presence of their baby daughter." She called Chantal slap "an isolated instance" where no injuries were sustained.
OK! POLL: WOULD YOU TRUST BACHELOR BRAD WOMACK WITH YOUR HEART?
In case you missed the slap heard 'round the world, catch the clip below!