NEWS
'Bachelor' Finale: Ben Flajnik Proposes to Courtney Robertson, But Are They Still Together?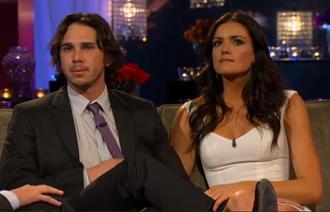 Last night's finale of The Bachelor didn't necessarily surprise any of us who've been watching the show since the beginning of the season. Ben Flajnik sent home a devastated Lindzi Cox and proposed to villainess, Courtney Robertson. But did she accept?
Of course she did! After hitting it off with Ben's mom Barbara and sister Julia and spending her last day with Ben in Switzerland, the model from Santa Monica accepted Ben's proposal and the two ended up happily ever after. Well, not really...
Article continues below advertisement
OK! NEWS: BACHELOR BEN FLAJNIK ON COURTNEY'S SHOCKING BEHAVIOR: "AFTER WATCHING, IT'S NOT OKAY"
During the After the Final Rose special following Ben's heartwarming proposal, host Chris Harrison chatted with the soon-to-be Mr. and Mrs Flajnik separately. An exhausted-looking Ben talked with Chris first, letting him know that he and Courtney are on rocky terms.
"We were essentially broken up. We had a talk and decided it's not healthy with all this negative energy," Ben explained of the status of their relationship, adding that they haven't really talked much since all the negative press about Courtney's behavior on the show has come to play. "It became too much, so much that I just cracked. There were a few weeks where we took a couple steps back and reassessed our relationship."
MORE ON:
courtney robertson
Article continues below advertisement
"We were so happy together and then it was like a big storm rolled in," Courtney told Chris, who added that all this went down around Valentine's Day. "He didn't send flowers, a card or anything… I was so heartbroken."
But, the heartbreak might not have been that bad, considering Ben and Courtney are still engaged, despite their awkward discussions with Chris.
Towards the end of the special, Ben put the engagement ring back on Courtney's finger, reassuring her that he still loves her and that he wants to make it work. Courtney, who admits she's still madly in love with Ben, agreed that they'll try their best to push through in "real-life."
So, in the end, it seems the "black widow" Courtney isn't the only evil one. The fact that Ben "abandoned" her when she needed him the most is pretty terrible. If he truly loves her like he says he does, he would have never left her to fend for herself throughout their "soiled engagement." I guess her "winning" comments and rude and hurtful jabs at the other girls really did affect him in the end. Well Ben, you made your bed, now sadly, you must lie in it.
Do you think Ben and Courtney will last?