NEWS
'Bachelor: Women Tell All' Recap: An Apologetic Courtney Robertson Breaks Down in Tears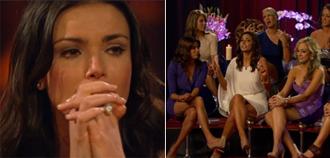 It just might have been the most dramatic episode of The Bachelor yet, as the rejected women from this season returned for the Women Tell All special to talk about their heartbreaking goodbyes with Ben Flajnik, their sour feelings toward party-crasher Shawntel Newton and their hatred toward the villain of the show, Courtney Robertson.
First, the girls got the chance to talk to one another about how they interacted in the house and apologize for anything they said or did that might have affected people. Blakeley Shea, who was called the "stripper" of the season multiple times by the other women, shared her take on how she was percieved during the show and told the girls just how she felt about their negative comments about her. When that was all settled, Samantha Levey got called a "chihuahua," who never stops talking," by Brittney Schreiner, who explained why she decided to leave the show on her own terms.
Article continues below advertisement
Fan favorites Emily O'Brien, Kacie Boguskie and Nicki Sterling got to talk about their unique situations and love stories with Ben before all the girls got together for an intense "let's bash Courtney until there's absolutely nothing left we can say about her," session.
Host Chris Harrison surprises the girls by letting them know Courtney is in the building and wants to apologize to all of them for her "horrible" behavior on the show. They're all flabbergasted, to say the least.
Article continues below advertisement
"I was humiliated by some of the things I said and my actions," Courtney said as she began to "apologize" to the women.
"You're here to repair your image," Jen Fritsch said when asked whether or not Courtney is being sincere. "When you apologized to Ben for the way you treated us, it was to Ben and not to us and so it still feels like you just wanted to go to the next level with Ben. You wanted to be top two. And it might not have had anything to do with feeling bad about what you said to any of us."
MORE ON:
courtney robertson
"It wasn't ever my intention to hurt anyone's feelings. I was just trying to keep my head above water," an emotional Courtney backtracked, before admitting that the media speculation and the reactions to her behavior on the show have been "very hard" on her.
OK! NEWS: BACHELOR STAR NICKI STERLING "DIDN'T BUY" COURTNEY ROBERTSON'S ON-AIR APOLOGY TO BEN FLAJNIK!
"I hope you guys can find it in your hearts to forgive me, I'm not a mean-spirited person and it brought out the worst in me and I can't apologize enough, I really can't," a teary-eyed Courtney explained. "Not in a million years did I expect for it to turn out like this. And it's affected my family negatively and my friends. This is the hardest thing I've ever had to go through."
Article continues below advertisement
Although it's a shock to see Courtney break down in tears, the other women don't look like they're buying her apology or the fact that she's trying to backpedal and blame her manipulative attitude on "insecurity."
With the little time left in the show, the actual Bachelor — you know that guy named Ben Flajnik — comes out to talk to the women. He tells Casey S. that he's sorry for the way her exit went down and explains to Nicki that he loved their time together and respects her beyond words.
Next week, we'll see Ben spend his last week with the final two women, Courtney and Lindzi Cox, and decide on who will be his fiancée.