NEWS
'Bachelor' Host Chris Harrison: "I Don't Know If Ben Flajnik & Courtney Robertson Will Last"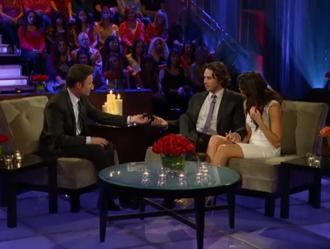 Despite Ben Flajnik and Courtney Robertson's reconciliation on the After the Finale Rose special, The Bachelor host Chris Harrison isn't sure whether or not their relationship will last in the real world. Although he has faith in their feelings for one another, Chris is a little weary as to whether or not they can make it, due to the fact that Ben admitted he "abandoned" Courtney during her darkest hour.
Article continues below advertisement
But, Chris admits that once the pair watched their touching engagement, their moods changed and they "both stopped being defensive and started loving each other again."
As for whether or not that love can last a lifetime, Chris isn't sure.
"Now the question I'll get asked over and over is, 'Will they last?' In truth, I don't know," Chris admits. "I know that it's been a rocky road for these two, but what happens from here on out is up to them. I told them it's now their decision on how they write the rest of their love story."
Article continues below advertisement
OK! NEWS: BACHELOR RUNNER-UP LINDZI COX HINTS SHE WANTS TO BE ON THE BACHELORETTE
"Call me a silly optimist, but I hope they not only survive, I hope they find happiness together," he adds. "Did both of them make mistakes throughout all this? Of course they did. They both personally stumbled a bit and both hopefully took away major life lessons from this. So I'll say this: I wish them the best as they head off and try to make a life together, and I sincerely hope it does work for them."
Do you agree with Chris and hope the best for Ben and Courtney? Or do you think their flame will burn out?