NEWS
'Bachelor' Recap: One of the Girls Warns Ben Flajnik About Cunning Courtney Robertson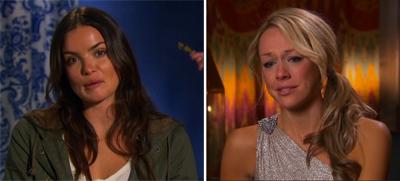 Another episode of The Bachelor, another two hours of catty girl drama and bizarre comments by the contestant everyone loves to hate, Courtney Robertson, who is convinced she's "winning" Ben Flajnik's heart. If this girl quotes Charlie Sheen one more time, we swear we'll be the ones to "verbally assault" her, but let's save that discussion for later....
Ben meets the remaining women in Park City, Utah, for a week of dates in the great outdoors! For his first one-on-one date, Ben chooses Rachel, who impressed him last week during the group date. The pair hops on a helicopter and lands at a secluded lake in the middle of the mountains. They enjoy an intimate canoe ride and some lunch, but something seems a little off. Although she's beautiful and spunky, the crickets of Park City were making more noise than Rachel, who was very reserved, something Ben wasn't expecting. During dinner, Rachel apologizes for being quiet and closed off and lets Ben know that that's something she needs to work on. Ben forgives her and gifts her with a rose after realizing that she just needs to take it slow.
Article continues below advertisement
OK! NEWS: JIMMY KIMMEL PREDICTS BACHELOR BEN FLAJNIK'S FINAL FOUR!
For the group date, Ben takes eight ladies, including the self-centered Courtney, horseback riding and fly-fishing in the mountains. In a confessional, Courtney announces she's going to "turn this group date into a one-on-one," adding, "these other girls don't have their eye on the prize and I do."
Courtney whisks Ben away while everyone is fly-fishing and drags him upstream so that she can steal all his attention. Although she's probably the least outdoorsy person there, she ends up catching the only fish of the day, which infuriates the other women, especiailly Lindzi, who witnesses the whole "Ben, I caught a fish, how amazing am I" act.
Later on in the night portion of the date, tensions soar as a distraught Samantha confronts Ben and yells at him for "only asking her out on group dates." Three in a row to be exact. This obviously infuriates Ben, who expected her to be grateful to even be asked on dates when some women don't see him all week. He decides then and there that she's not the one for him and sends her packing.
That's when the other girls jump in and try to steal some alone time with Ben, including the adorable and charming Kacie B., who is the frontrunner in our minds right now. She and Ben have a true connection, unlike his seemingly out-of-this-world one with Courtney, who is obviously just playing him. For example, after Kacie and Ben return from their alone time, a bikini-clad Courtney snatches Ben away and tells him she's not feeling secure in their relationship anymore and is having a difficult time in the house. (GAG). Of course Ben, who is obviously smitten with this girl, needs to reassure her of his complete adoration, and gives her the rose. Great.
Article continues below advertisement
At the cocktail party, emotions run high as Emily confronts Ben and lets him know that Courtney is playing him. "There's one girl here who's very different around you then she is around the rest of the girls," Emily says, as Ben looks on in confusion. He's visibly upset and feels like she wasted their time together to talk about another girl.
When an emotional Emily lets the other girls in on what happened, Courtney's "best friend" in the house, Casey S., runs and tells her that Emily talked badly about her to Ben, in which Courtney replies, "I almost just want to rip her head off and verbally assault her." Oh, OK Courtney, you do that. Maybe Ben will finally see your true colors.