NEWS
'Bachelor' Star Nicki Sterling "Didn't Buy" Courtney Robertson's Apology to Ben Flajnik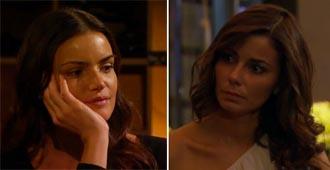 When it comes to this season of The Bachelor, it seems like the only thing anyone ever wants to talk about is Courtney Robertson and her strange behavior on the show — and rightfully so! The finalist was downright cruel to the other women, and now they're all seeking their revenge!
OK! NEWS: BACHELOR BEN FLAJNIK: "KACIE BOGUSKIE IS MORE ATTRACTIVE THAN COURTNEY ROBERTSON"
Nicki Sterling, who left heartbroken this week after Ben Flajnik sent her home following their romantic overnight date in Switzerland, believes Courtney is simply in it to win it. And she's disgusted by the model's fake apology to Ben, saying the Courtney she knew was not sincere.
Article continues below advertisement
"Did I buy Courtney's apology to him for hurtful things she's said about the girls in the last episode? No, I don't buy it at all," Nicki told OK! in a conference call. "From my standpoint, it looks as though she realized her chances of making it to the end with him might be hindered by the way she treated other people, so therefore she started to back pedal."
"The Courtney I lived with and got to know was not sincere in that manner," Nicki quipped. "I didn't believe the tears, I didn't believe the apology."