NEWS
Emily Maynard Admits Brad Womack's "I Dodged a Bullet" Comment "Hurt My Feelings"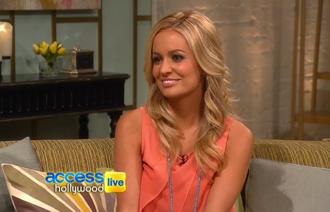 Article continues below advertisement
"I think I dodged a bullet with that relationship," Brad told ABC13, adding, "I have no interest in watching the show. All I can say is she's a helluva woman and I hope it works out."
Emily stopped by Access Hollywood Live yesterday and chatted with Kit Hoover and Billy Bush about Brad's harsh and out-of-nowhere comments.
"I haven't heard from him since filming started, but um…" Emily stuttered before addressing Brad's recent outburst. "At first my feelings were really hurt because we left everything very civil and I've never said a bad word about him," she added. "But knowing Brad, he didn't mean it that way. That's what I'm going to say."
Billy chimed in, saying that maybe Brad meant he was happy he wasn't in a relationship with a single mom, admitting in the past that he wasn't ready to be a father to Emily's six-year-old daughter Ricki.
OK! NEWS: EMILY MAYNARD SHOULDN'T TRUST KALON MCMAHON ON THE BACHELORETTE
"I'm going to go with that," Emily said.
"Do you think you dodged a bullet?" Billy asked her.
"No," she answered abrubtly.
As for whether or not she found love on The Bachelorette, Emily says we'll have to watch to find out, but added that we "got to get to know" the guys better.
Do you think Emily found love?