NEWS
'The Bachelorette' Emily Maynard Caught in a Dating Scandal!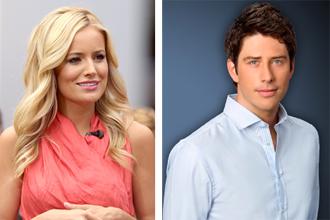 Bachelorette Emily Maynard could see a sexy, fun-filled future with contestant Arie Luyendyk Jr. He's tall, dark and handsome, funny and smart — and a race car driver on the Indy car racing circuit.
Because she was engaged to NASCAR driver Ricky Hendrick — the father of her 6-year-old daughter Ricki — when he died in an airplane crash in 2004, many feared Arie's life behind the wheel would strike a painful chord with the 26-year-old.
Article continues below advertisement
Arie and one of the producers did date briefly — nine years ago — but they quickly called it off to save their friendship, a source says. So why keep it a secret?
Perhaps because from the get-go, Arie had the proverbial inside track to Emily's roses, becoming one of the final three bachelors, according to sources who know how the pre-taped show unfolds. She even flew to Scottsdale, Ariz., to meet the 30-year-old's parents, spies reveal.