NEWS
'Bachelorette' Finale Preview: Ashley Hebert & Ben F. Get Muddy; J.P. Rosenbaum Gives Gift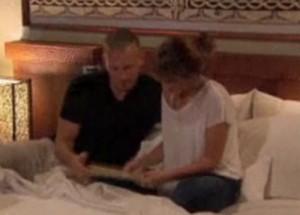 Article continues below advertisement
"I think you're too much for him," she tells a shocked Ashley. "I think you're too young and too spunky and he's just a little bit older and a little bit more demure."
Ashley bursts into tears, muttering "It's heartbreaking because I really, really care about him."
She adds, "The first thing you say walking in here, is 'He's not for you.' "
"I don't think he is," her sister insists.
Ashley can't seem to let her sister's opinions go, and holds a separate meeting with her to discuss her feelings for J.P. — a clear frontrunner during the entire competition.
"It was harsh and uncalled for and I need to talk to my sister and if that were to happen again I'm scared I'm going to leave here alone," she says to the camera.
She then explains to her sister that she was nervous for J.P. to meet her family because she cares for him so much, and her nerves may have been misconstrued as "discomfort."
Article continues below advertisement
"You want me to like him, and that's your issue," her sister says. "Am I here to sugarcoat it? I mean I don't get it. I have to be true to how I'm feeling and I'm not feeling it."
She then asks her sister if she thought Ashley was better off with Brad Womack, when she was a contestant on The Bachelor.
"I'm not saying you would be better with him, but the way you felt and the way that you looked at him, you were more yourself," her sister explains.
Ashley then continues to sob, as she calls her sister a "b***h."
Besides her conflict with her sister, two sneak peeks from Ashley's final two dates with Ben F. and J.P. have been revealed.
She gets down and dirty with Ben, as they strip down and rub each other in a mud pit.
Ben dubs the date "quite erotic" to which Ashley teases, "I wish I could reach lower."
Her date with J.P. was more PG, but had some serious sentimental backing. He gave her a token of his affection, and Ashley gushes profusely!
Catch the clips below. Who do you think will win? Sound off in the comments!