NEWS
'Bachelorette' Finale Recap: Emily Maynard Chooses Jef Holm!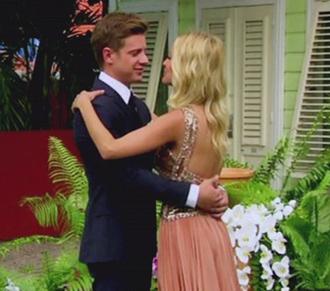 Article continues below advertisement
First up: Jef, arriving with two flower bouquets (major points!) for her mom and future sister-in-law. During his one-on-one's with mom, dad, and brother, Jef settles in for one heck of a job interview. How serious is he about Emily, and perhaps more importantly about stepping in as a father figure for six-year-old Ricki? "I want to marry her," Jef said. "I'm set on it!" (Sold!) Before heading back to his room, Jef sits down with Emily's dad to ask for his blessing, which he certainly receives. Emily learns that her family was very impressed! In fact, they gush that it couldn't have gone better. Arie, it looks like you have your work cut out for you.
Emily greets her second suitor and after a bit of an awkward silence, Arie settles his nerves and presents the family with a box. Inside are all the roses Emily has given him, symbolizing their journey and each moment her loved ones couldn't be there for. Redemption! During his one-on-one's with the family, he lets them know that he's dated a single mom before and is ready to take on a life with Emily and daughter, Ricki. Arie also sits down with Emily's dad to ask for his permission before proposing. "She's the love of my life," he says and for dad, "that's a good place to start." (Can a dad give two different men permission to marry his daughter?) The family finds themselves in quite the predicament. They can't tell Emily whom to choose!
Article continues below advertisement
During Emily and Jef's final date, he asks her how she feels about introducing daughter, Ricki. Emily is hesitant at first, nervous that these introductions might affect her daughter, especially after what happened with Bachelor Brad Womack. In fact, she reveals that she wasn't planning on having Jef or Arie meet Ricki at all! Luckily, Jef persuades her to agree to some time spent with Ricki and the two reconvene back at Emily's place. Introduced as her "friend", Jef dives right in – literally! He joins Ricki in the pool and Emily watches as he plays around with her daughter, making everyone feel right at home. "There's no question that Jef would be the best dad, the best husband," Emily confesses. "No questions."
OK! NEWS: BACHELORETTE RECAP: EMILY MAYNARD BREAKS DOWN AT ROSE CEREMONY AFTER SENDING SEAN HOME!
The next morning, before Emily gets ready for her date with Arie, she sits down with host, Chris, to talk about where she's at right now. (Chris Harrison – host, therapist, couples counselor!) She reveals that Jef is everything she's been looking for. Her mind is made up. She's done! What about Arie? Emily tells Chris that she won't be able to sit through the date today without feeling absolutely horrible. "It's not fair to him."
Article continues below advertisement
Arie arrives to their final date first where he concocts a love potion for his future fiancée. "Tomorrow, I am getting engaged," he happily says. Oh, Arie... It's too late, my friend, too late. In fact, it's time for the talk. Emily begins to cry before the conversation even begins and a very concerned Arie asks her what's wrong. Struggling to get the words out, Emily admits that while she loves him... The color draining from his face, Arie realizes what Emily is about to say. She tells him that she always thought it was going to be the two of them in the end. (Didn't we all?) "I'm shocked," Arie says. "Don't say anything. I'll go. There's nothing to say. Good luck. Thank you for sparring me the embarrassment of tomorrow." With a kiss on the cheek, Emily says goodbye to racecar driver, Arie. Don't worry – there's always The Bachelor!
All dressed up, awaiting Jef's arrival and in anticipating of his proposal, Emily confesses that she's still not sure whether she's ready to get engaged after this. She's set on her choice, but doesn't want to be "the girl that gets engaged 15 times before she gets married."
OK! NEWS: THE BACHELORETTE: DOES EMILY MAYNARD KNOW ABOUT ARIE'S OTHER WOMEN?
Jef walks up to Emily and the two look absolutely in love. She reassures him that this entire journey was absolutely worth it. "You really are everything that I've looked for for so long. I really do feel like you're my soul mate. You are the perfect person for me. You get me better than anybody ever has. I love you so, so much."
Article continues below advertisement
She tells Jef that he's the only one "that got to meet Ricki and I didn't even go on a date with Arie yesterday. He's not even here today. It's just me and you."
"I found my everything," Jef tells her. "And I promise if you let me into your life and Ricki's life, you will never feel lonely ever again. I want you to know that what I'm about to ask you aren't empty words. What I'm about to ask you is a forever thing."
Getting down on one knee, he says, "Emily, will you marry me?"
Looking down, Emily is silent. And the silence continues. And there's more silence!
"Yes!" she says.
Cue the video montages. Cue the swoons heard all over the country. If you hadn't fallen in love with Jef before, you surely have by now.
Ricki runs out to the newly engaged couple and we watch them walk off all holding hands.
"We did it!" Emily shouts.
Do YOU think Emily made the right choice?