NEWS
'Bachelorette' Recap: Emily Maynard Breaks Down at Rose Ceremony After Sending Sean Home!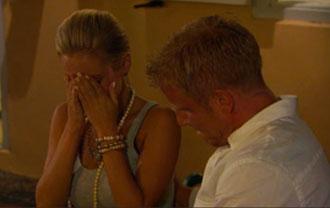 In the most heartbreaking rose ceremony in Bachelorette history, single mom Emily Maynard broke down in tears and attempted to send home one of the most incredible men in the competition.
Emily and her final three, Sean Lowe, Jef Holm and Arie Luyendyk Jr., headed to Curacao for the fantasy suite dates this week. First up was her one-on-one date with Sean, who had been a frontrunner from the very beginning, but had yet to tell Emily he loved her.
Article continues below advertisement
OK! NEWS: BACHELORETTE PREVIEW VIDEO: EMILY MAYNARD DOESN'T GIVE ONE GUY AN INVITE TO THE FANTASY SUITE
During their time on the beach, Sean and Emily discussed everything from his hometown date to how he would raise her daughter Ricki, but the phrase, "I love you," never came up. Until the dinner portion of their date, when Sean read a letter he wrote to Ricki, saying that he would love her like his own and cherish her and her mother for eternity. After he finished reading the note to a teary-eyed Emily, Sean confessed that he had indeed fallen in love with her and couldn't imagine his life without her as his wife.
Later in the evening, Emily and Sean headed to the fantasy suite to spend a little more quality time together, but due to her morals as a woman and a mom, Emily chose not to spend the night, knowing that her feelings for Sean were very strong.
Next up, Emily and Jef met up at the beach and enjoyed some time out on the water on paddleboards. They talked and talked (as always) and really proved to viewers that they share a special bond that goes beyond sexual chemistry (ahem, Arie!).
Article continues below advertisement
During dinner, Jef was the one grilling Emily, asking her why her past relationships didn't work out and if Ricki would get along with him. Emily loved that Jef took the lead and thought about some questions he wanted answered. When it came time for her to give him the fantasy suite card, Emily couldn't get a word in while Jef reassured her that although he "would love to spend the night" with her, he knew that her daughter, family and his family would be watching this one day and understood her morals as a mother. Emily was totally taken aback and realized that Jef really is the man she always thought he was.
For her final date of the week, Emily caught up with Arie in Curacao and swam with the dolphins. Emily and Arie can't seem to keep their hands off each other and both admit to having amazing sexual chemistry. But, we must say, kissing and cuddling all the time instead of talking is not necessarily the way to go, especially when there are serious questions to be asked by both parties!
After their day date, Emily and Arie shared a romantic dinner, kissed some more and then got to talking about their life away from The Bachelorette cameras and how they would raise Ricki together as a family. Arie dated a woman with two kids, so Emily is confident that he understands children and their needs. But she was also weary of Arie's passion for her and afraid of what they would get themselves into in the fantasy suite. So once again, Emily didn't spend the night and opted to send Arie home early.
Article continues below advertisement
OK! NEWS: DID ARIE LUYENDYK JR. SLIP & REVEAL THE WINNER OF THE BACHELORETTE?
So, after an incredible week full of amazing one-on-one dates, Emily struggled to come to a decision about whom to send home — would it be the perfect Southern gentleman, Sean? The cool, skateboarding guy from Utah, Jef? Or the Indy racer and man of passion, Arie?
Emily cried to Chris Harrison about her decision and told him that she still didn't know who she was going to send home before she sat down and watched the video messages each man made for her. (This was just too heartbreaking to watch! Emily truly cared for each one of these guys and you could see it in her face how upset and torn she was).
But finally, after buckets of tears, Emily came to a decision and gave Jef and Arie her final two roses, sending a devastated and heartbroken Sean home.
"I'm not sure what to say," a teary-eyed Sean told Emily after she walked him out. "I feel kind of stupid. Only because I knew with certainty that I was ready to spend forever with you and I just didn't see this coming... obviously. I think you should know it's going to hurt me," he added as Emily broke down in tears, once again.
"I want you to know, I wanted it to be you, so bad. So, so bad," Emily told Sean with tears streaming down her face. "I'm really going to miss you and I have loved every minute I've had with you."
We must say, Emily is the best Bachelorette we've seen thus far — not only is she sweet, she's genuine and honestly cares for each of these guys and their feelings.
Next week, Emily's in the hot seat in The Men Tell All special, as she confronts the 23 men she's sent home this season, including Sean.