NEWS
'Bachelorette' Preview: Emily Maynard Breaks Down in Tears & Second-Guesses Her Decisions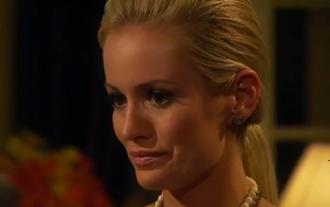 In a new extended sneak peek of The Bachelorette, we see Emily Maynard make out with multiple guys, flip out at a rose ceremony and cry her eyes out when it comes down to sending more guys home. Will she make the right decision or end up letting go of her dream man?
"I feel like there could be something really good with us," Jef Holm — a frontrunner — tells Emily in the preview clip. But Jef definitely has some competition when it comes to race car driver, Arie Luyendyk Jr., who reveals, "When I look at Emily, I really picture her as my wife and I know I'm falling in love with her."
Article continues below advertisement
"He said to us this morning that he's competing with all of us to win Emily basically. And she's the trophy," Jef tells Arie in the sneak peek video. "He's in it for like "the prize" of Emily." Sounds a lot like something Ryan would say, No?
But still, it's obvious Emily ends up with some amazing guys in the end, due to the fact that she breaks down in tears when she's forced to send one of them home in a future episode.
Article continues below advertisement
"I'm falling in love with more than one person and that is really scary," Emily admits. "They could really get their hearts broken and it tears my heart up inside to think that I could do that to them."
OK! NEWS: DOES BACHELORETTE EMILY MAYNARD KNOW ABOUT ARIE'S OTHER WOMEN?
"I have such a huge decision to make… I don't know what to do. I just feel really guilty," a distraught Emily cries. "I'm scared of everything. I don't want to hurt anybody and I don't want to make the wrong choice."
Watch the preview below and let us know what you think! Who should win Emily's heart?