NEWS
'Bachelorette' Recap: Jef Holm Takes the Lead in the Race for Emily Maynard's Heart!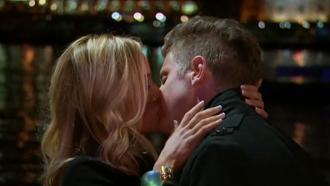 It was an episode full of sparks and wildfires last night on The Bachelorette as Emily Maynard fell hard for one guy and almost attacked (yes, attacked) another.
Emily and her remaining men arrived in London on the first leg of their European trip. For her first one-on-one date, Emily took Sean Lowe for a tour of the iconic city, taking in sights like Big Ben and the Tower Bridge on a red tour bus.
Article continues below advertisement
Emily let Sean know that although attractive guys usually bore her to tears, he excites her and she's really loving where their relationship is going. To no one's surprise, Emily gave Sean a rose, and the two shared some sweet kisses before calling it a night.
For this week's group date, Emily took Doug Clerget, Arie Luyendyk Jr., Kalon McMahon, Ryan Bowers, Travis Pope, Alejandro Velez, John Wolfner and Chris Bukowski to Straford-upon-Avon, where William Shakespeare was born. She had the guys act out scenes from Romeo & Juliet, playing either Romeo, Mercutio or Juliet's nurse... yes, some of the guys had to play a woman!
Article continues below advertisement
Doug and Arie were chosen to play the nurse and truly impressed Emily with their charismatic performances, while Kalon took the whole day way too seriously, acting like he was more interested in playing Romeo than spending time with Emily. And as it turned out, Kalon wasn't really into Emily at all. Actually, he told the other guys that her daughter Ricki was "baggage" and would be a hindrance on any sort of relationship with Emily.
When Doug filled in Emily on Kalon's comment at the cocktail party, Emily flipped out and proclaimed, "I'm going to go West Virginia hood rat backwoods on his a--." Let's just say we saw a whole new side to Emily.
She gathered all the guys together and confronted Kalon, asking him flat-out if he called Ricki "baggage." Kalon didn't deny his hurtful comment at all, saying it came out worse than he meant it to, but that he did say those exact words. Emily proceeded to tell him to "get the f--- out," and sent him packing.
MORE ON:
Arie Luyendyk Jr.
Article continues below advertisement
But the rest of the night was ruined because Emily was disappointed that none of the other guys stood up for her and "had her back" as Kalon dissed her life as a single mother.
OK! NEWS: THE BACHELORETTE STAR KALON MCMAHON'S BIG LIE TO EMILY MAYNARD
For her final date of the week, Emily took fan favorite Jef Holm on a one-on-one, but she was still bummed about the previous night. Still, Jef has a way of relaxing Emily and he got her to let go of all that drama for the day and just live in the moment with him.
After they ditched their overwhelming and extremely boring etiquette class, Jef and Emily headed to a local pub and enjoyed some pints and fish and chips. Later that evening, they chatted over a romantic dinner at the London Eye and connected on a whole new level.
After dinner, the shy guy from Utah finally built up the courage to kiss Emily... and there were fireworks! The sparks were definitely flying between these two, and we have a feeling Jef is going to make it all the way to the end.
Article continues below advertisement
At the cocktail party before the rose ceremony, Emily chatted with each guy about their behavior this week and questioned them on whether they would have their woman's back if she was betrayed the way Kalon betrayed her. Surprisingly, Emily was most angry with one of the frontrunners, Arie, who got a reaming from the bachelorette for failing to fill her in on Kalon's secret personality.
In the end, Emily sent home Alejandro and let the remaining guys know that they're all headed to Croatia next week.
Whom do you think Emily will end up with? And what are your feelings about Kalon?
For more on The Bachelorette, check out this video from SheKnows.com: