NEWS
Chris Harrison: Emily Maynard "Handed Kalon His Own Head on a Platter" on 'The Bachelorette'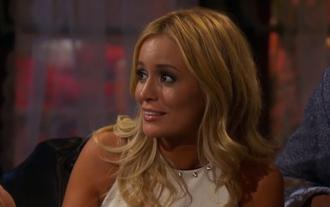 Article continues below advertisement
"My favorite line was right before she went out to face Kalon, she said, 'I wanna go West Virginia hood rat backwoods on his a**.' Now, I have no idea what that means, but it doesn't sound pleasant," Chris said in his weekly blog on EW.com, adding that Emily's other comment — "I want to go out and rip his limbs off and beat him with them" — was another one of his favorite quotes of the night.
"One of the things I admire about Emily is she has no problem handling her own business. She wanted to go out and face Kalon herself in front of everybody and that's exactly what she did," Chris added.
"There's so much I loved about this confrontation," he continued. "In short, Emily absolutely handed Kalon his own head on a platter. She began by throwing his arrogant condescending line about letting her finish right back in his face. But the icing on the cake was Emily going West Virginia hood rat on his a** and telling him to get the "F" out." Yes Chris, we totally agree!
"I will never, as long as I live, let anyone speak ill of Ricki, or any other kids I might have or any husband I might have," Emily said in a confessional on Monday night. "I will protect my family until the day I die."
Article continues below advertisement
Us fans were all pretty amazed too! Go Emily!