NEWS
Rachel Lindsay Says The Key To Surviving Quarantine With Husband Bryan Abasolo Is 'Space'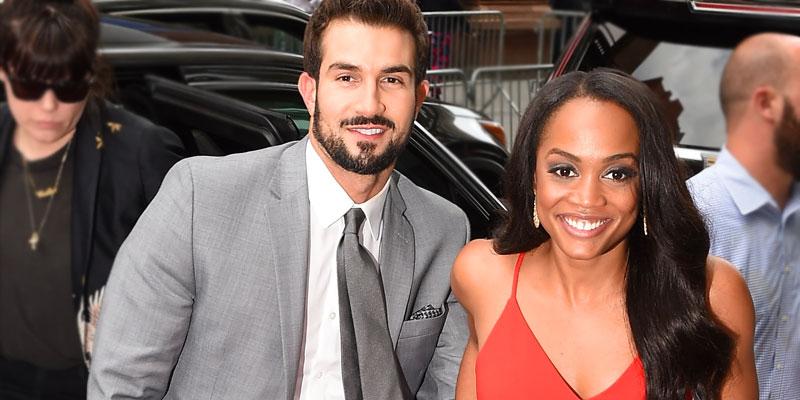 Honeymoon phase is over! Former Bachelorette star Rachel Lindsay opened up about her first year of marriage - the good and the bad - with husband Bryan Abasolo. The newlywed admitted that the ongoing coronavirus pandemic has definitely put a stress on their relationship.
"Absolutely we've had fights. Absolutely," she told Derek Zagami on the show RealiTea with Derek Z. "We get on each other's nerves."
Article continues below advertisement
'BACHELORETTE' ALUM RACHEL LINDSAY SAYS SHE'LL 'NEVER' BE FRIENDS WITH RAVEN GATES AGAIN AFTER FALLING OUT
The 35-year-old said that the couple - who got married in August of 2019 - had to find a way to maintain their "independence" while being isolated during quarantine together.
"The key to surviving quarantine is space. So Bryan goes into the office. He's a chiropractor, so he's still considered an essential worker," she told the host. "And I do my work from here and it's like we separate, we do our thing, and then we come together at the end of the day."
She continued with saying that it has been "fantastic" for the couple and that "it's what works for us. We're independent."
RACHEL LINDSAY: 'PROUD' AND 'EXCITED' FOR BECCA KUFRIN'S LIFE WITHOUT EX GARRETT YRIGOYEN
As far as expanding their family. The Ghosted star said that they "definitely still want children. So I would say sooner than later," she told Derek Z. "No, I'm not pregnant right now. Sorry, I can't. I can't. I know that's what you wanted me to say."
Article continues below advertisement
The duo met on Lindsay's season of The Bachelorette and tied the knot at the Royalton Suites Cancun in Mexico in 2019. After the Miami-based chiropractor popped the question, the couple lived together in her hometown of Dallas before relocating to Miami.
In August of 2019, Lindsay opened up to PEOPLE about their decision not to televise their wedding. "I wanted a TV wedding. I 100 percent did," she said. "Then, as we got to know each other in the real world and things became normalized, and then I started hearing horror stories about these TV weddings… I think that it shows to the world or Bachelor Nation that what we have is more real."
BACHELOR NATION COUPLES WHO CALLED IT QUITS (SO FAR) IN 2020
As far as if more reality TV is in the future for Lindsay and Abasolo, 39. When asked about which Housewives franchise she would join if she had the chance, she wasn't hesitant in responding "Potomac."
"I love the one Potomac. But New York is a close second," she told Derek Z. "I saw Dorinda's out, but which I'm still. I'm still not OK with that."
Hear that Bravo? Get your girl on the phone, she's ready.