NEWS
Bachelorette Recap — Rated R Reigns Over Kasey; Chris N. Sent Packing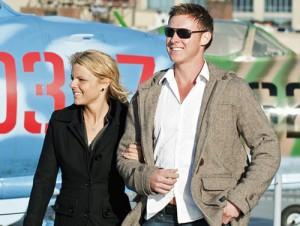 In the fifth episode of this season's The Bachelorette, Ali Fedowtowsky took her nine remaining guys on a journey to Iceland — continuing her trip around the world to find love. In the end, Kasey and Chris N. were left out in the cold and sent home, leaving seven contestants vying for Ali's heart.
The romance started in the Icelandic city of Reykjavik, where Chris Harrison told the guys they were to compete for a one-on-one date with Ali by writing a love poem — using the Icelandic language — in one hour.
Article continues below advertisement
Kasey, as usual, was overly confident he was going to woo Ali with his love poem to win the one-on-one date.
OK! NEWS: JAKE PAVELKA & VIENNA GIRARDI — "IT'S OVER"
"I'm very excited for her to hear my heart, and my words," said Kasey in last night's episode. "I am 100 percent that that I am going to get that date. I have my heart on my sleeve and I have my shield the tattoo on his wrist of a shield protecting a rose."
Kirk was the contestant who made the poem very personal as he walked up to Ali and even touched her face in reference to her freckle.
OK!'S BACHELORETTE RECAP: ALI & THE GUYS STRIKE A BEACH POSE
His intimacy and kind works won Ali over, and she chose him for the one-on-one date.
"Walking around with Kirk, I feel like a couple," Ali said. "I didn't think I could see myself with Kirk, but I could see myself being with him."
Article continues below advertisement
After strolling around the streets of Reykjavik, Ali and Kirk sat down where he opened up began to open up about his past, in a very hesitant manner, giving Ali the impression he was keeping something from her.
Meanwhile, back at the house, the remaining guys find out who would be going on the group date and which two contestants would be competing for a rose on the two-on-one date.
The group date card: Roberto, Chris L., Chris N., Craig, and Frank, leaving Justin "Rated-R" and Kasey for the two-on-one date.
In an egotistical manner, Justin said: "I definitely see fear in Kasey's eyes. When you see fear in your opponent's eye, you have to basically take them out."
Back on Ali and Kirk's date, while they were enjoying dinner Kirk explained that five years ago, he got really sick when he was in college from mold poisoning, which made him re-prioritize life.
Article continues below advertisement
Ali sympathizes with him, and gives him a rose at the end of their dinner.
"Knowing that now I am invested emotionally," explained Kirk, "I'm 100 percent invested with her. It makes me want to spend forever with her."
Back at the guys' pad, Kasey ponders his fate as he looks out the window, while Frank has a conversation with him.
Kasey begins to looked desperate as he explained, "I'm not just trying to stick around," Kasey said, "I'm trying to be the man of her dreams, I want her to be in love with me."
Frank encouraged him that the two-on-one date is his time to shine, and to send the wrestler home.
On the group date, Ali waited on top of a hillside holding horses for each of the guys.
"Ali has never ridden a horse," cooed Roberto. "Everything she does is fearless."
Ty, the cowboy, took control of the group date, and impressed her by showing her how to handle a horse, making the other guys jealous. After horseback riding, the group explored a cave.
Article continues below advertisement
Back at the guys' house, Justin, "Rated-R," decided to take his game up a notch by getting his cast off and having a boot put on his foot, throwing his crutches in the garbage.
Back on the group date, Chris L. is first to go down into the cave and gives his warmer gloves to Ali, so her hands wouldn't be cold.
"I like him trying to be close to me," confessed Ali. "I like him making the effort to let me know he's there."
At the last part of the date, Ali takes the guys to the Blue Lagoon — a large natural hot tub that is thought to have healing powers.
There, Chris L. and Ali share an intimate kiss.
"If she truly sees who I am, she will fall in love with me," Chris L. explained. "And there will be no competition."
Frank's insecurities began to surface, because he had not had the chance for alone time with Ali.
Article continues below advertisement
When Ali and Frank finally spend some one-on-one time, she tells him he needs to step up his game.
Frank expressed his confidence that he is the "one" for Ali: "I came here to fall in love with Ali. I want to be the guy to propose to Ali."
At the end of the night, Ali gave Ty the rose for being so courteous to her while horseback riding.
On the two-on-one date, Kasey confessed he will show Ali his tattoo, giving Justin hope that Kasey's fresh ink will be an advantage for him.
Ali stood in front of a helicopter waiting for her men and noticed Justin without his crutches.
"I had to do it for my date!" said Justin.
The trio stand on top of a erupting volcano to take in the magnificent landscape before them.
Later in the date, Kasey finally gets his precious one-on-one time with Ali.
"Your mom is going to kill you!" Ali exclaimed as Kasey revealed his tattoo. "Thank you, Kasey, for being you."
Article continues below advertisement
As Justin predicted, Ali gave him the rose, and Kasey went home.
"I think you are ready to meet someone, I want you to go find her!" explained Ali to Kasey."Something just wasn't there."
CLICK HERE FOR ALL OF OK!'S BACHELOR/BACHELORETTE NEWS
At the cocktail party, Frank seized the opportunity to spend time with Ali and tried to assure her that she's going to end up with him.
"God, I missed you, I want us to fall in love. I want to be the last guy here."
Craig R. then took his opportunity to try to win Ali's heart by telling her he got something — he mocked getting a tattoo drawn by a ballpoint pen on his wrist with her name, and a rose mimicking an arrow. Ali laughed hysterically.
Chris L. got to open up more to Ali about his future plans with his wife, whoever it may be.
"The most important thing to me is love and family," Chris L. explained. "I feel like I can do anything and go anywhere. I just need the person to do that with."
Article continues below advertisement
Roberto and Ali spent some alone time where she acted vulnerable and confessed that in the "real world," she wouldn't approach Roberto, because he's "too hot" for her.
"I feel like I am the right guy for Ali," confessed Roberto.
At the rose ceremony, the last two guys came down to Chris N. and Craig, and Craig got to stay.
So where is the group's next stop? Istanbul, Turkey!
In the preview for next week, we see Ali getting closer to Ty. He says he is falling in love with her.
Ali and Frank are shown having a one-on-one date and she confesses to him she is afraid of their relationship.
Lastly, we see Ali on the phone, and a producer is telling her one of the guy's has a girlfriend. Ali threatens that he is going to regret this.