NEWS
'Bachelorette' Recap: Emily Maynard Hands Out Her First Impression Rose & Sends Six Guys Home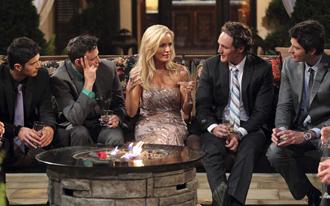 In the season premiere of The Bachelorette, the lovely Emily Maynard met the 25 men who will attempt to win over her heart, but some of them didn't make a lasting impression. Emily is not just looking for the man of her dreams — she has a 6-year-old daughter, Ricki, who needs a father figure in her life.
There were some standouts in the bunch last night, including single dad Doug, who walked away with the first impression rose after he presented Emily with a letter written by his 11-year-old son, Austin. These two definitely have chemistry and share that connection of being single parents.
Article continues below advertisement
OK! NEWS: MEET THE 25 MEN WHO WILL FIGHT FOR EMILY MAYNARD'S HEART ON THE BACHELORETTE
Someone else who caught our attention was Charlie, who recently suffered an almost fatal accident and sustained a brain injury after his friend's deck collapsed while he was on it. Charlie seems to have his priorities straight and is truly interested in Emily. Plus, he's a total cutie!
Jef also made a great impression, showing Emily that she can fall for a "cool" guy. Emily, who ended her engagement to Bachelor Brad Womack last year, felt a spark with the laid-back and endearing Jef, who arrived to the first cocktail party on a skateboard!
And how could we forget about Ryan, a former pro football player turned pro sports trainer who has already proved that he's wonderful with kids. Ryan admitted to Emily during their first meeting that he was very nervous, but extremely excited to be taking this journey with her. So sweet, and hunky!
Lastly, someone who may have flown under the radar was Michael, who stands out from the rest of the guys with his long hair and bright smile. Michael let Emily know that he's a music lover and just has a nice demeanor about him, which balances out Emily's personality.
Article continues below advertisement
OK! NEWS: EMILY MAYNARD IS DATING ONE OF THE MOST DANGEROUS BACHELORS EVER!
Some of the bachelors that didn't really make the best impression for us were Chris, the guy with the bobbleheads and competitive attitude, Kalon, the one that thought flying in on a helicopter was cool, and Stevie, the party MC who just couldn't stop talking about Kalon and his grand entrance.
Emily ended up sending six guys home, including father-of-six Brent, singer-songwriter David, fitness model Jackson, sweetheart Jean-Paul, the charming Lerone and that guy who dressed up as a grandma, Randy.
Who's your favorite bachelor so far? Share your thoughts about the premiere!
For more on the premiere, check out this video from SheKnows.com: