NEWS
Backstage At Z100's Zootopia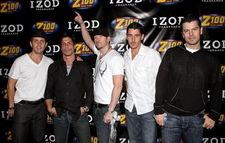 New Kids On The Block remain tight-lipped when it comes to reporters at Z100's Zootopia. It's photos only in the press room, so it's time for a shout-out. How does it feel to be back together after 15 years?
"It feels incredible," Joey McIntyre says.
Donnie Wahlberg adds, "We've been around for a long time."
The Beantown boys bring out a cake onstage to celebrate Jordan Knight's birthday. Delish! They play a medley of hits, their new single Summertime and retro Tonight.
Article continues below advertisement
Wow! I'm going to be on the next season of MTV's Making The Band – fingers crossed. Danity Kane's camp brings along a release form for me to sign because they taped me talking to the girls. I love airtime. ;) The last time this happened, I was in Mandy Moore's Diary. Good times. Aubrey O'Day and company start singing their favorite song -- DJ Jazzy Jeff and the Fresh Prince's ditty Summertime. A-ha!
Up next is Simple Plan's Pierre Bouvier, who tries to get Chuck Comeau to open up about the origin of their new tune Your Love Is A Lie.
"It's a song about betrayal and about being cheated on," he says. "It happened to me, so it sucks. I wrote a song about it. It's a song for everybody who's ever been cheated on.
"Come on, more specific, what happened to you man?" Pierre prods.
"That's it," Chuck says, embarrassed.
Article continues below advertisement
It's always drama for Simple Plan in the press room. One time, Chuck asked Kelly Clarkson on a date in backstage at a Z100 event!
Jesse McCartney gets the crowd pumped with his hit Leavin.' One thing he left behind while recording his album Departure? Junk food. "If I get another cavity, I'll be upset," he says. "Everything's sugar-free."
Sara Bareilles slides by. "I'm truly excited about performing tonight. Hopefully I'll make people smile." Bonus: She went to UCLA with Maroon 5 -- and they're touring together!
Here's OneRepublic's Ryan Tedder sailing around in a wheelchair. What happened? "I slipped last night in Philadelphia offstage. There was water everywhere, and it happened. I was thinking 'whatever you do, don't fall, don't do this.' As soon as I took a step, both of my crutches fell out from under me. There's a lot of pain, and it's stressful."
He wrote the Leona Lewis megahit Bleeding Love."Everybody heard it and thought 'this is the one,'" he says. "I'm happy for her. Good luck to her."
Article continues below advertisement
Making The Band choreographer Lori Ann Gibson dishes some dirt about making dance moves for Madonna.
"I thought it would be life-altering," she tells me. "I'd worked with urban acts like Mary J. Blige, Puffy, Missy – and I thought she was a step up. Madonna. I realized then that no matter how much money or how many records that if it's really not there in your soul and if you're really not coming from an honest place, it's not worth it. She has an amazing work ethic but you'll find the real artistry with Beyonce, Usher or Alicia Keys."
Snap!
What about the Jonas Brothers?
"I started working with them when they were very young. To see what they have become is truly a great thing. They're honest, they're great songwriters and musicians. To see how their natural talent has developed is a blessing. They're going to be here forever."
We'll see!
The night ends with a performance from Miley Cyrus, who gives her all to tunes including Start All Over, See You Again, Fly On The Wall, Breakout and G.N.O. (Girls Night Out). Confetti pours down over the tween crowd.
Oh, here's Jesse's rep. That means Jesse's not far behind. 'Night all.
Miss yesterday's antics? Hit up Gifting Miley Cyrus.
Pick up the OK! on stands now for more coverage of Z100's Zootopia. Angelina Jolie: Four Weeks To Go! is the cover line.