NEWS
Bailee Madison Loves Playdates with Suri Cruise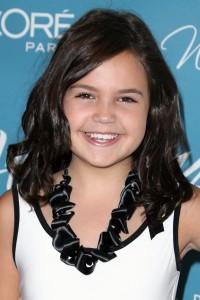 At the age of ten-years-old, Bailee Madison is set to star alongside Katie Holmes on the big screen and says that she and Suri Cruise couldn't be better friends.
"I am like a four year old at heart, totally," Bailee exclusively told OK! on Saturday of playdates with Suri, "I love it. We design T-Shirts and paint and they are just so artsy and an artistic family. I love it… I go to the house sometimes and she is just so sweet and they are so kind and loving."
Article continues below advertisement
HOLLYWOOD'S LEADING LADIES SHOW THEIR POWER
The young rising star says that she has learned so much from Katie and truly admires the mom and actress, especially for her style.
"I am a Katie Holmes lover! I love her so much and every single time I look at her wardrobe I think, 'I wish I could pull that off!' She has such a vintage and unique style and I think that whenever she steps out on the carpet, she works it and she looks good in everything," Bailee revealed to OK! at the Beauty and the Beast Sing Along Premiere in L.A.
DON'T BE AFRAID OF THE DARK KATIE HOLMES TRAILER
And the Don't Be Afraid of the Dark starlet even likes high heels like 4-year-old Suri.
"When I was little I wore high heels. I would walk around in my mom's high heels. Its just so much fun. As a little girl, its fun!"
SURI SEEMS SKEPTICAL OF HER SWEET RIDE
The Cruise family's new friend admits that she would love to work with Suri next!
"That would be so much fun. I think whatever she puts her mind to, she can totally do it," Bailee explained of Suri acting in a movie.