NEWS
Bam Margera Is "Devastated" Over Ryan Dunn's Death, Say April & Phil Margera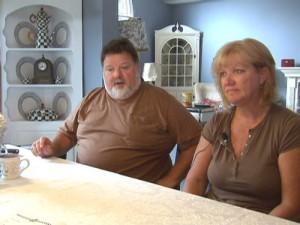 Bam Margera has yet to join Johnny Knoxville, Steve-O and his other fellow Jackass co-stars in releasing a statement about the loss of their dear comrade, Ryan Dunn, who died early this morning in a fatal car crash at the age of 34. But his parents April and Phil Margera have opened up about their son's grief as well as their own in an on-air interview.
"I think we are still processing the whole thing, really," April told MyFoxPhilly.com earlier today in a video interview. "I know you are, I am, and we're just worried, you know, about our Bam. He's out of town and was just told, so, he's devastated, needless to say. We all are, West Chester Pa. is, you know. Our whole entire Jackass family is like beside themselves. I can't believe it."
Article continues below advertisement
She continued: "I mean, we're close with all the Jackass guys but, you know, of course, the Jackass guys from West Chester who spent a lifetime here at our house, especially when they were younger in high school ... and they've made something of themselves. Ryan was just Bam's really dear friend, and we just loved him. We all did."
"I just, I actually can't even believe it," April added.
With all the rumors that are generated in the media these days, Phil thought Ryan's death was a hoax at first.
"When they called from 'MMR, we said, 'Well, check it out. It's probably another rumor,' " he explained. "But this one turned out to be real."
Phil also shared how Ryan "fit in perfectly with Bam."
"They were best friends, and they fed off of each another," he said, as April agreed saying he was like another son.
Article continues below advertisement
OK! NEWS: ROGER EBERT SLAMS RYAN DUNN'S DEATH & ACCUSES HIM OF DRUNK DRIVING
"He's a part of our family," she said. "He told us every time he left, 'You're like my mom and dad.' "
April said she even would receive Mother's Day wishes from Ryan.
"It's just really hard. He was just a super nice guy, would do anything for you, always happy," she shared, saying that their prayers are with Ryan's family and his girlfriend, Angie.
She did note that she believes Ryan is a safe driver and wouldn't get behind the wheel under the influence.
Jackass co-star and pal Johnny Knoxville turned to Twitter to express his feelings and grieve the tough loss.
"Today I lost my brother Ryan Dunn. My heart goes out to his family and his beloved Angie. RIP Ryan , I love you buddy." he Tweeted.
Steve-O Tweeted the simple statement: "I don't know what to say, except I love Ryan Dunn and I'm really going to miss him."