NEWS
Bar Refaeli Ruffled By Leo-Whitney Rumors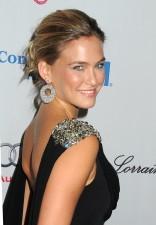 Bar Refaeli runs away when asked about reports that Whitney Port is dating ex Leonardo DiCaprio during the Angel Ball benefiting cancer research held Tuesday at NYC's Cipriani Wall Street.
"Oh!" she gasps. "I don't want to talk about that."
The couple dated for three years before calling it quits in June.
Nixing all love life questions, the Israeli-born Sports Illustrated Swimsuit model regains composure when she returns to her area of expertise: beauty.
Article continues below advertisement
What's an instant makeover tip she can share?
"Pinch your cheeks," Bar, 24, says. "Then, you feel like you're blushing a little bit and it gives life to your skin."
Blake Lively races inside to join boyfriend Penn Badgely. "I'm wearing Victoria Beckham," the gorgeous Gossip Girl cries out as Jennifer Hudson rushes through.
Here comes Sherri Shepherd, who is thrilled Elisabeth Hasselbeck returned to The View on Monday post-maternity leave.
"I'm so excited that Elisabeth is back," the multitasking mom tells me as ex-Viewster Star Jones maneuvers to avoid the weeklies. "Both of our kids are four-years-old, and I missed her voice. I've gotta leave the party early because I've gotta go research stuff. Elisabeth keeps you on your toes."
Howard Stern arrives with wife Beth Ostrosky Stern in tow. He is a total delight! Best time on a red carpet in a while. He makes me laugh, and she's a doll as always.
Article continues below advertisement
How does he feel about the Balloon Boy saga?
"Balloon Boy is the greatest thing ever," he yuks. "I only wish my parents would put me in a balloon and send me away. I'd rather have been raised by wolves. But no, Balloon Boy, what are you going to say? Everybody's hungry to be famous. This father's hungry to be famous. Poor little Balloon Boy was vomiting on the Today Show. It gave me ideas. I want to vomit on the Today Show. That's my next big thing."
Robin Thicke, with wife Paula Patton, worked with Leighton Meester on the first single from her forthcoming album.
"She is extremely charming, seductive and sexy," he says of teaming up with Miss Meester for the song Somebody To Love. "The video is going to make a lot of people sweat. She told me she was a big fan, and that's why she wanted me to be on the record. I've only seen Gossip Girl once, but I think she's amazing. I'm very excited. We had a lot of chemistry, and had a great time together."
Article continues below advertisement
Patricia Field, wearing sunglasses, dishes on life on the Sex and the City 2 set.
How are the ladies getting along?
"They get along great," she tells me. "Let me say because of all the silly talk with the girls – the girls struck it rich with Sex and the City. They know it. They're happy for it, each of them individually and as a group. They are not stupid."
Of the '80s fashions, she says, "It was fun for the girls. They enjoyed it, and people seemed to enjoy it because we shot it on the street and everybody saw it because it was public domain. I think everybody had fun with it, actually."
How is Sarah Jessica Parker adjusting to life with twins? Daughters Marion and Tabitha are four months old.
"Fine," she tells me. "I don't see it as an adjustment. It's a natural situation."
What is SJP really like?
"She's very intelligent, very aware, very professional, alert. She's very graceful. She can put on anything and it's going to look good because she moves beautifully."
Russell Simmons's daughters Ming, 9, and Aoki, 7, are now big sisters to five-month-old brother Kenzo. (Mom is ex-wife Kimora Lee Simmons and dad is her new hubby Djimon Hounsou.) How are they enjoying it? "Oh, they're so happy," he tells me. "They're so thrilled. They're absolutely in love with their new brother." His youngest has taken up an interesting hobby. "Aoki's a good meditator." Hmm…
Wow, I spot Rob Pattinson's doppelganger in the British boy band Blake. His name is Jules Knight, and he must hear that all the time. "It has been said," he tells me. "I find that very flattering because he's supposed to be the sexiest human being on the planet. It's happened once or twice, but I'd be very welcome for that to happen more to be very honest."
Howard and Beth are out at 8pm. Gotta wake up early for that morning show. ;)