NEWS
Barbara Walters: "Britney's Seen a Psychiatrist"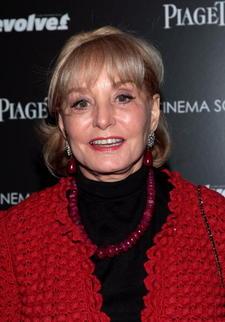 First Dr. Phil and now Barbara Walters — seems like every TV talker is involving themselves in the news surrounding Britney Spears.
On Monday's episode of The View, Barbara recounted for her fellow co-hosts a conversation she'd had with Britney's on-off-on best pal Sam Lutfi. During their chat, Sam apparently told the TV legend that Brit's recent odd behavior — which includes her four-hour standoff with authorities followed by a two-night stay in the hospital — can be chalked up to "treatable" mental conditions.
Article continues below advertisement
"He said that Britney is suffering from what he describes as mental issues which are treatable," Barbara shares. "He said that she has been to a psychiatrist and that she, I assume, is starting some kind of treatment."
Prefacing that she "can't vouch for this," the 78-year-old adds that, per Sam, Britney has been suffering from mood swings and has had trouble sleeping. The good news, though, is that the singer has reconnected with her estranged mother, Lynne.
"She is in touch with her mother — because we had heard she wasn't — and her mother has been very supportive of whatever it is Britney is going to do," Barbara says.
Lynne had flown into Los Angeles on Sunday night, perhaps on her way to see her 26-year-old daughter.
When her co-hosts expressed skepticism over Sam's reports, Barbara responds, "I don't know if anybody is telling the truth or not telling the truth... but he has been her manager, he has been her friend, he has been with her constantly. He seems to be enormously supportive and I don't know why he would lie."