NEWS
Battle at the Box Office: Experts Expecting 'The Hunger Games' to Trump 'Twilight'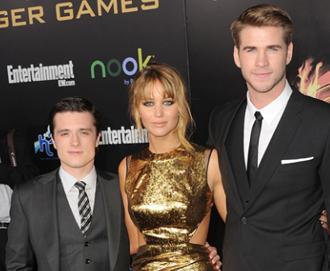 Early tracking data has predicted that the much-anticipated film The Hunger Games might just eclipse (pun intended) the $131.1 million debut of The Twilight Saga: Breaking Dawn — Part 1 when it debuts at the box office on March 23.
If this happens, it will be a pretty amazing feat; although no one can deny the powerhouse that is The Twilight Saga, the Breaking Dawn movie was the fourth film in the franchise, while The Hunger Games is the first in its series.
Article continues below advertisement
OK! NEWS: PETER FACINELLI TALKS TWILIGHT VS. THE HUNGER GAMES FEUD AT L.A. PREMIERE
Paul Dergarabedian, a box office analyst for Hollywood.com, says that although it is too early to predict exactly how The Hunger Games will perform, the fervor of the fans is something he has only seen with Twilight.
One thing that might help ticket sales is that The Hunger Games is perceived as not only having a love triangle (between Jennifer Lawrence's Katniss, Josh Hutcherson's Peeta and Liam Hemsworth's Gale), but also a tremendous amount of action, making it appeal to many types of movie-goers.
OK! NEWS: JENNIFER LAWRENCE AT THE HUNGER GAMES PREMIERE: 'THIS IS MY NEW LIFE'
A rival studio executive told The Hollywood Reporter, "Hunger Games is tracking like a sequel, even though it's not a sequel. It's three times higher than the first Twilight."
Wow! What do you think? Is The Hunger Games poised to top Twilight? Would there even be as much fandomonium surrounding The Hunger Games had it not been for Twilight before it? After all, both have love triangles, both have adventure, and both have plots that require some suspension of belief...