NEWS
Bears QB Jay Cutler Sustains Injury; Green Bay Packers & Pittsburgh Steelers Head to Super Bowl XLV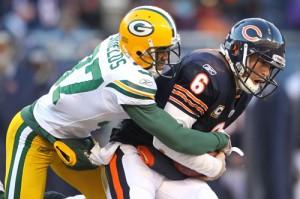 Let the celebrities start jumping on bandwagons for the Super Bowl now! Kristin Cavallari was no doubt in charge of consoling her quarterback boyfriend, Chicago Bears player Jay Cutler, after a knee injury pulled him out after the first half of the game against the ultimately triumphant Green Bay Packers. Meanwhile, East Coast celebs are no doubt bumming today over a New York Jets loss to the Pittsburgh Steelers.Even the support of a superfan like Kanye West, a native Chicagoan, wasn't enough to bring the Bears to victory, as they lost 21-14 to QB Aaron Rodgers and the Packers. Little is known about Jay's injury, just that he was told to step to the sidelines sometime after the first half was over.
Article continues below advertisement
"It's a lonely feeling to fight and go through training camp and everything else and get to this point and have an opportunity to get in the Super Bowl," Jay told reporters, says ESPN.com. "It's hard. There were so many shots we took earlier in the year and able to bounce back. To be in the situation we were and to have things happen like that, it's tough."
OK! NEWS: COACHELLA 2011 LINEUP — KANYE WEST, KINGS OF LEON MAKE THE LIST
He's expected to get an MRI today, and his girlfriend Kristin is staying mum so far about her beau's loss on Twitter.
Meanwhile, celebs like Julie Benz, from Pittsburgh, are no doubt excited to see their teem in the big game on Feb. 6, after defeating the Jets in a close 24-19 win. Julie Tweeted: "Way to go #Steelers !!! I have my jersey ready for the Superbowl!!!" She posted a pic of her customized jersey along with it.