NEWS
Behind the Scenes at The Star-Studded "We Are the World" Studio Session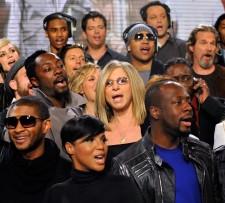 With Lionel Richie, Quincy Jones and a collection of the biggest music names around, the scene at the Henson Recording Studios on Monday evening harked back to the day 25 years ago, when legends like Diana Ross, Cyndi Lauper and Billy Joel gathered to record Michael Jackson's heartfelt hit for famine relief. OK! takes a peek behind the scenes as today's hottest musicians make history...
Apart from Lionel and Quincy, there were no returnees from the original hit, out of the 80-plus celebrities singing "We Are the World: 25 for Haiti", reports USA Today.
Article continues below advertisement
LISTEN TO SIMON COWELL'S VERSION OF REM'S "EVERYBODY HURTS" FOR HAITI
The song's original lyrics have been tweaked by Lionel, and Black Eyed Peas rapper will.i.am wrote a rap "Greek chorus" extension while Wyclef Jean will apply a Haitian lilt to the track.
Although the turnout exceeded expectations with singers including Pink, Jamie Foxx, Jennifer Hudson, Céline Dion and Barbra Streisand, others like Taylor Swift had scheduling conflicts and Janet Jackson will be added remotely.
CHECK OUT THE FULL LIST OF SINGERS AT THE "WE ARE THE WORLD" SESSION
A few figures clad head-to-toe in green were planted amid the celebrities so that, through green-screen technology, fans later will be able to insert themselves into the video online.
Check out the day's highlights:
•Barbra Streisand struggled to get the correct emphasis on her solo lines which she taped repeatedly. Finally she asked the engineer, "are you getting the right sound? It's faster than the original, isn't it?"
Article continues below advertisement
SEE HOW COMEDIAN DANE COOK IS HELPING OUT HAITI
Longtime Quincy Jones collaborator Patti Austin stepped in to coach her, singing along at one point, and saying, "That's smokin'! Do it just like that!"
•Jordin Sparks felt a bit left out: "There's a lot of inside jokes, and I'm like, I don't get it." But, she's delighted to be involved with the song, "I wasn't born yet when "We Are the World" was first released, but the song has had a huge impact on me," says the "Tattoo" singer. "They've changed it up a little bit, so it's a new version with a little more — I hate this word — but swag."
CHECK OUT JOHN TRAVOLTA AND KELLY PRESTON'S RELIEF MISSION
•Justin Bieber, 15, was too busy crushing on Nicole Scherzinger to worry about singing the opening verse. "It was hard to take my eyes off her, she's so gorgeous," he gushed.
•Brandy was impressed with Snoop Dogg's singing voice: "To hear him sing in key and with vibrato is pretty cool," she said.
Article continues below advertisement
•Lil Wayne was a little starstruck. "I've never been involved in something like this," he said. "I feel blessed (but) I was like, what am I doing? My mother just wanted me to take Gladys Knight's picture."
•Josh Groban said the day was a "party". "It feels like the first day at camp," he said. "The 10-minute breaks become, 'So what are you working on?' So many of us are fans of the people around us. It's a party in there."
OK! HOT GALLERY: THE BEST GRAMMY MOMENTS
•Wyclef Jean is co-producer but he understands that fans of the original won't want to hear too many changes. "When you have a classic, you don't want to touch it," he says, adding that the remake will be "a big version". He added: "I feel like a kid in a candy store," he says. "The first time I heard Lionel's "All Night Long", I was 15, working at a Burger King (and) barely spoke English."
Article continues below advertisement
•Vince Vaughn is playing coy about his part in the song. What did he actually contribute? "Nope!" he said, "you don't want the pink little spoon. You want the whole sundae. You're going to have to wait for it."
PRINCE AND PARIS JACKSON KEEP THEIR FATHER'S MEMORY ALIVE
Turning serious he explained why he got involved: "Music is the highest art form," he said. "Music can take you the farthest, the fastest emotionally. All songs on some level are prayers. To come and say a prayer with all these very talented people tonight was a great thing to do."
•Nicole Richie, who was in the chorus, brought two-year-old daughter Harlow, cradled by dad Joel Madden of Good Charlotte. Charlotte guitarist Benji Madden, Joel's twin brother, also participated. Nicole was 3 when she was in the studio with her dad during the original recording.
SEE HOW CELINE DION HONORED MICHAEL JACKSON AT THE GRAMMYS
•Céline Dion can't forget the reason why the event took place: "People are having a great time singing that song even though it is a tragedy," she said. "We are feeling every word of it. We will make a difference. We're enjoying ourselves because we want to change what's going on. People are very touched to be there."