NEWS
Bella's 'Truly Sorry' After OnlyFans Changes Rules, Was 'Trying To Remove Stigma Behind Sex Work'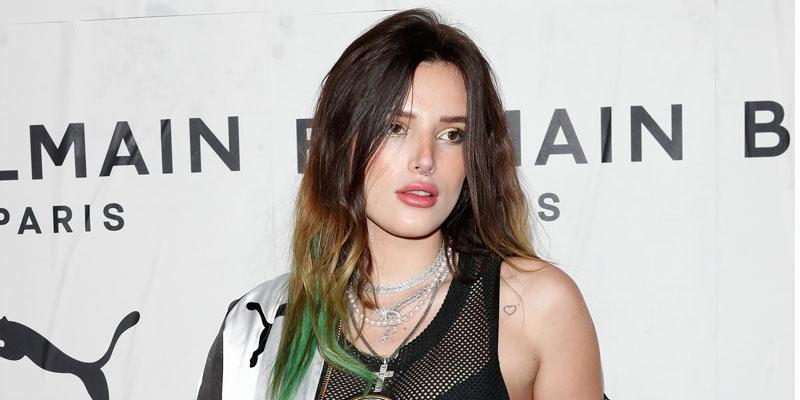 The social media prescription platform, OnlyFans, implemented a controversial new payment limit restricting how much money content providers are allowed to charge, stating that the new rule had nothing to do with the new member Bella Thorne.
Many content providers and sex workers were outraged with the new rule that stated no vendor can charge over $50 for pay-per-view content and no user can tip more than $100, blaming the Shake It Up actress who recently bragged about making over $2M in the first week of creating her page.
Article continues below advertisement
Site content providers claimed the actress was trying to charge $200 for a bikini picture before the new rule was implemented, and the Florida native tweeted that she was meeting with OnlyFans" about the new restrictions to find out why!!!" She added, "This is (expletive)-ed up."
The Blended actress, 22, took to Twitter Saturday, August 29 to say she was 'truly sorry' for the new rule and explaining her side of the situation. "I wanted to bring attention to the site, the more people on the site the more likely of a chance to normalize the stigmas, And in trying to do this I hurt you," the former Disney Channel star wrote. "I have risked my career a few times to remove the stigma behind sex work, porn, and the natural hatred people spew behind anything sex related."
"I am a mainstream face and when you have a voice, a platform, you try to use ... in helping others and advocate for something bigger than yourself. Again in this process I hurt you and for that I'm truly sorry," she added.
OnlyFans made a statement to NBC News that the changes were not based solely on one user but rather to prevent users' overspending. "Transaction limits are set to help prevent overspending and to allow our users to continue to use the site safely," the statement continued."We value all of the feedback received since this change was implemented and we will continue to review these limits."
Article continues below advertisement
The social media - launched in 2016 - is similar to platforms like Facebook and Instagram but allows for explicit and unfiltered content. The subscription service allows content creators to charge a monthly fee for exclusive material.
The site, widely known for adult entertainment, had gained mainstream attention after stars like Cardi B and Thorne joined it. The site includes celebrities, musicians, chefs, health experts, and now A-list celebs.
While the high-profile star is all too familiar with adult material - after directing an award-winning BDSM film with Pornhub - and OnlyFans does offer X-rated content, rapper Cardi B already made it clear that she will not be posting anything like that, explaining, "No I'm not going to be showing my t—ies, or my p—y, or my ass, just straight up real-life content s – – t, you guys be mad nosy when it comes to my life."
Article continues below advertisement
Thorne announced her joining OnlyFans on Instagram Aug. 19 with a sexy post of her rocking a bikini and dazzling diamond necklace that spelled "sex."
She explained that she joined the site for research purposes with an intent to create a film with Sean Baker - the director who worked on Tangerine - around her experience on the platform.
"It's a feature we are researching as I'm living it currently," she explained.
The Onlyfans official Instagram account commented on her post: "Welcome to our OnlyFans family Bella. We're super excited you're here," and Too Hot To Handle star Francesca Farago commented "edible lil snack."
Another fan added, "Only Fans Servers about to crash," which it did within 24 hours of the star joining the site.