NEWS
Best Super Bowl Commercials 2011: Darth Vader & Justin Bieber Lead the Pack!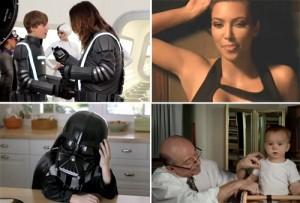 From high-power celeb driven commercials starring Justin Bieber, Ozzy Osbourne and Kim Kardashian to the classics delivered each year by Doritos, Pepsi and E-Trade, Super Bowl XLV ads sure didn't disappoint this year. Catch some of the most memorable commercials below!
A sweaty, scantily clad Kim or a teen heartthrob like JB will sure capture people's attention, and that attention is very important as 30-second Super Bowl spots cost advertisers millions of dollars!
Article continues below advertisement
FOOD/SOFT DRINKS
Doritos 2011, "Pug Attack"
Coca-Cola 2011, "The Seige" — Classic!
Pepsi Max 2011,"Love Hurts"
E-TRADE BABIES
E-Trade Baby 2011, "Tailor"
CARS
Volkswagen 2011, "Darth Vader" — This commercial already has over 15,000,000 views on YouTube, and we can certainly see why!
Chevy Camaro 2001, Miss Evelyn — Two guys talking share their thoughts for Miss Evelyn.
Hyundai Elantra 2011, "Deprogramming" — When Jeff Bridges speaks, you listen!