NEWS
Bethenny Frankel Fans Blame Jill Zarin for Stealing Her Baby Thunder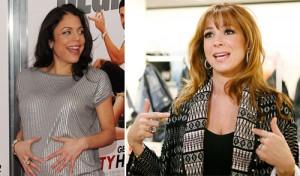 Real Housewives of New York fans have been sending their best wishes to Bethenny Frankel and her husband Jason Hoppy for welcoming a baby girl this past weekend, as OK! confirmed, but Jill Zarin, Bethenny's former best friend, is feeling some heat for congratulatory greetings!
OK! EXCLUSIVE GALLERY: BETHENNY FRANKEL AND JASON HOPPY'S DREAM WEDDING!
"Heard Bethenny had a baby boy ... so happy for her and son. So happy for them," Jill posted on her Facebook page Friday, according to the New York Daily News.
Article continues below advertisement
Unfortunately, Jill was going off of other incorrect reports which said Bethenny welcomed a boy.
And team Bethenny fans aren't too happy with Jill!
OK! NEWS: BETHENNY & JASON HOPPY WELCOME BABY GIRL
"Hundreds and hundreds of people were attacking Jill on Facebook, Twitter — even on her own fan-page — for announcing the birth of Bethenny's baby before she did," a source close to the situation tells NYDN. "They were calling her a 'loudmouth,' and saying B was right — she did need to get a hobby!"
But to be fair, Jill corrected her mistake on Saturday.
OK! NEWS: BETHENY FRANKEL GOES INTO EARLY LABOR
"Yesterday my daughter read a tweet and blog that Bethenny gave birth," Jill posted. "We were excited and congratulated her obviously prematurely. I should have waited until B announced it herself. Sorry."
And Jill wasn't the only Real Housewife of New York to share Bethenny's baby news before Bethenny could herself.
OK! NEWS: JILL ZARIN WANTS TO BE PALS WITH BETHENNY AGAIN
"OMG at the airport. & just spoke to @bethenny...she's in the hospital having the baby!!!!!!!" Ramona Singer Tweeted on Friday afternoon.
"Everyone is lashing out at Jill because of what they see on television — but in reality, if it had been any of the other Housewives who had made the mistake Jill did, no one would blink an eye," the source explained. "Bethenny has complained in the past Jill just can't be happy for her, but she's obviously making the effort."