NEWS
Bethenny Frankel Headed For Divorce? So Says Estranged Mother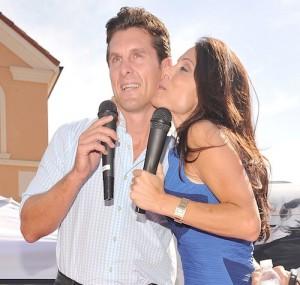 Super candid reality star and entrepreneur Bethenny Frankel has been married to Jason Hoppy for a year and a half, but according to her estranged mother in a recent interview she's headed for divorce. Not only that, Bernadette Birk says the Skinnygirl Margarita concept was actually her idea. Really?
Bernadette told Star Magazine in an exclusive interview, "Right now, he is a good father, but soon she won't need him and she will dump him." She added, "Her husband seems like a really nice guy, but it won't last. He is really too weak for her."
Article continues below advertisement
OK! NEWS: BETHENNY FRANKEL ON HER FIRST NOVEL — "THERE WILL BE A LOT OF JUICINESS"
When it comes to her daughter's booming business as well, Bernadette didn't mince words. The Skinnygirl Margarita mix help launch the bestselling author onto the third spot on Forbes' list of Hollywood's Highest-Earning Women with an income of $55 million — not too shabby!
The estranged mom explained the concept was actually her idea. "When she was young, her godmother, Eleanor Mogavero, would come and visit, and her drink of choice was a margarita. She was overweight, so I'd make her really low-fat ones. But Bethenny would never give anyone credit, it goes against her narcissistic point of view."
OK! NEWS: BETHENNY FRANKEL ON RUSSELL ARMSTRONG'S SUICIDE — "PREPOSTEROUS TO BLAME A TV SHOW"
Apparently she's only spoken to her daughter twice in the past ten years. "She sells everything because money and power is No. 1 for her, and there is never enough. She only puts herself around people who can do something for her. It is amazing how she turned out just like her father."
What do you think? Maybe Bethenny's mom is bitter about the star's happiness and sweet success? Sound off in the comments!