NEWS
Bethenny Frankel: Marriage Will Make My Relationship "Better, Stronger"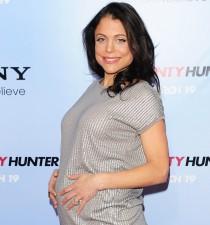 With her wedding just days away, Real Housewives of New York star Bethenny Frankel is looking forward to tying the knot with her fiancé Jason Hoppy and then preparing for the really big event of the year — having her first child.
And unlike other brides, the natural foods chef isn't suffering from any pre-ceremony jitters. "I'm not nervous about getting married," she told OK! at the NYC premiere of The Bounty Hunter.
Article continues below advertisement
OK! NEWS: BETHENNY FRANKEL: WHAT I ATE TODAY
"This whole part in between the planning, the rehearsal dinner, showers and girly stuff that's the part that's annoying. I just want to roll down the aisle and then I'll be happy."
So, what most excites Bethenny about spending her life with Jason? "We have the best time," the 39-year-old said. "We laugh, he's the sweetest person, he's a great partner, he's so caring, and we're bringing a baby into this world together.
OK! VIDEO: BETHENNY FRANKEL WILL SAY "I DO" IN FRONT OF THE CAMERAS
"We're not worrying about floral arrangements and nonsense for the wedding — which is so not important and things you can't get stressed about during this time — and families and hotels. All that matters is we're bringing a baby into the world."
What are the plans for the Big Day? "It's going to be a really beautiful, classic New York wedding," she said.
MORE ON:
Red Carpet Confidential
Article continues below advertisement
How will marriage change Bethenny and Jason's relationship? "It'll just be better, stronger," she says. "Everyone can calm down, and he can know I'm not going to run. He will know that I will not run because I will have been down the aisle. That's the big thing."
Reporting by Valerie Nome.