NEWS
Betty, Jamie Lee & Kristen Talk Sex and Age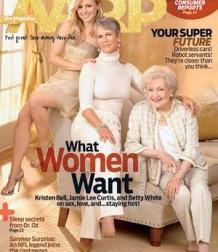 While working on their new movie You Again, Kristen Bell and Jamie Lee Curtis must have learned a lot of valuable advice from their older and wiser co-star Betty White. Perhaps the most important being about their sex life! 
OK! GALLERY: BETTY WHITE WINS MOST POPULAR AT YOU AGAIN PREMIERE
In the November/December issue of AARP, the three co-stars representing three generations sit down to discuss their opinions on sex and aging. As always, Betty's responses are priceless!
Article continues below advertisement
So when it comes to sex, Jamie Lee, Betty and Kristen have their own take on how to fill in the blank to this saying, "Sex gets....with age."
"Deeper over time," Jamie replies.
"I don't have a fella, but if Allen Ludden — or Robert Redford — were around, we'd have a very active sex life," Betty states. "Does desire melt away with age? I'm waiting for that day to come. Sexual desire is like aging — a lot of it is up here points to her head."
"It gets sweeter — and more fun," Kristen adds. "But whether you have an enormous libido — like my friend Betty — or none at all, there's no norm. There are different bodies, books, people."
"That's the greatest advice in this article, out of the mouth of the babe," Jamie adds.
OK! GALLERY: BETTY WHITE KEEPS HER NEW 'DO GOLDEN
And when it comes to aging, all three of them are just as open about plastic surgery — especially Jamie Lee!
Article continues below advertisement
"There's a reason why there is only one Betty White. Speaking to Betty You've navigated this magnificently and had good health and fantastic opportunities, and you've knocked them out of the ballpark. There are people who, when you see them on the screen, there's an audible gasp of "Oh my God." They look terrible — or they've done something to themselves and now look like freaks," Jamie Lee says. "Then there are people who age beautifully. There is one Meryl Streep and one Sigourney Weaver. But I could name 30 other actresses in their age groups who aren't working today. Me, I'm getting my ass out of this business in a few years because genetically it's not going to work for me. And I'm not saying this so you guys say, 'Oh, you're so pretty.' I'm talking about aging and genetics."
"I wish you would take your shirt off, Betty says. "This one pointing to Curtis has arms."
"You have a hot body and everybody knows it," Kristen adds.
OK! VIDEO: BETTY WHITE TAKES OVER THE WORLD OF FASHION
"Pointing to White She's 88 and hotter in Hollywood than anyone I know except maybe Justin Bieber!" Jamie Lee exclaims.
"Why are we all playing this gigantic game trying to be who we were five years ago?" Betty asks.
"Because everybody is saying that to get jobs you have to dye your hair and get injectables. It's a conspiracy, a complete catastrophe, a surgical-industrial complex," Jamie Lee responds. "Somehow we are being fed this belief that to continue on we have to do this. Yet people are being disfigured. It's shocking what people are doing to their faces."