NEWS
Betty White Celebrates Big Birthday Bash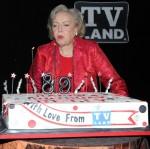 Ode to Betty White. The 89-year-old star of Hot in Cleveland celebrated her birthday last night in NYC and stopped by The Late Show with David Letterman to mark the occasion by drinking...wait for it....vodka!
OK! GALLERY: BETTY WHITE WINS MOST POPULAR AT YOU AGAIN PREMIERE
When Dave asked Betty her hobbies, she succinctly mentioned playing with animals and drinking vodka. Well, the host was prepared and had vodka readily available and poured two glasses. Looks like this comedienne has no signs of slowing down from her 63-years in show biz!
Article continues below advertisement
When you think about all of the hot comedies in television history, it's pretty much guaranteed that several of Betty's shows will make the list. Whether it's The Mary Tyler Moore Show to Golden Girls to the instant hit on TV Land, one thing's for sure; her career is one to be admired and emulated.
OK! NEWS: BETTY, JAMIE LEE & KRISTEN TALK SEX AND AGE
At her own fete as Betty celebrated with castmates and blew out her candles, Betty took it in stride, along with a Snickers bar. After a TV reporter for Fox gave it to her as a gift as an adage to her Super Bowl commercial, the actress graciously thanked her and made a gesture to put it in her back pocket to eat later.
Awww, we heart you, Betty! Here's to another fantastic year.