NEWS
Betty White to 'SNL': I'm Not Doing Any Nudity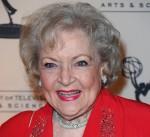 When Betty White hosts Saturday Night Live for the first time in May, she only has two conditions: No nudity and no drug jokes.
"They promised me I wouldn't have to do any nudity," the 88-year-old jokes. But on the more serious side, she tells ET Online, "I won't do dope jokes. I don't think dope is a joke. That is about the only 'no.'"
OK! VIDEO: SNEAK PEEK AT BETTY WHITE'S SNL HOSTING DEBUT
The Golden Girls star admits that although she's been asked to host SNL before she's always refused because she never felt she could do it.
Article continues below advertisement
But in 2009, a young fan began a Facebook campaign to get Betty invited to host the long-running NBC late-night show and the response was so incredible that the invitation went out once again.
OK! NEWS: BETTY WHITE KEEPS HER NEW 'DO GOLDEN
"All of a sudden people would tell me that they saw the Facebook thing and all these people had joined in. I couldn't believe it," Betty says.
"At first I thought they were putting me on. It came out of left field. I was astounded. I told my agent to say, 'Thank you, I appreciate it, but no thank you.' He said, 'You have to do it. If you don't do it, I will divorce you.' I love my agent, so I am doing it."
Article continues below advertisement
"I was doing a song on The Jack Paar Show and all of a sudden I lost the lyrics," she recalls. "It was a song I knew so well, 'When I Fall in Love.' I don't know what happened. I sang something. I made up lyrics as I went along. That was sheer panic, and I have a feeling it is the same kind of panic I may feel when I do Saturday Night Live."
While Betty is in New York she hopes to visit her Golden Girls co-star Rue McClanahan, who suffered a stroke in January.