NEWS
Beyonce Released a New Pepsi Commercial! Take a Look Back At Our Fave Pop Star Pepsi Commercials Ever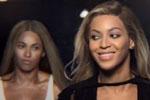 Beyonce hasn't released a new song since her album 4 came out in 2011, and the Beyhive is not happy about it. But today, B fans everywhere FINALLY got to hear some new Beyonce tunes! The bad news though? The song debuted in a Pepsi commercial and is only a snippet. Bummer.
Photos: Why We Want a Beyonce Theme Night on DWTS
Regardless, the song is called "Grown Woman," and the commercial is about Beyonce looking at her past personas—from her "Single Ladies" video and even her Destiny's Child days—in the mirror. And of course, B looks gorgeous and kills those dance moves. Take a look:
Article continues below advertisement
But remember these other amazing Pepsi commercials of the past few years featuring B and/or other pop stars?
This one features Beyonce, Jennifer Lopez, and a pre-famous Jennifer Lawrence. Mmhmm.
Here's another Beyonce one from 2003.
And lastly, um, hi, Beyonce, Britney Spears and Pink.