NEWS
Big Time Rush on 'Big Time Movie' & "Paying Tribute" To The Beatles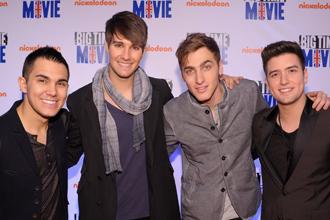 Who would ever dare take on such cultural icons as the The Beatles? Well, Big Time Rush is at least trying to. The pop super group is set to pay homage to the legends in their new Nickelodeon flick Big Time Movie, which airs tomorrow night. OK! got the chance to chat with the guys at their premiere in NYC last night about that daunting task.
"It's Big Time Rush singing the Beatles," Kendall Schmidt said. "I think one thing that got confused is we were never trying to make songs that were better than the originals. You can't make better than the originals."
Article continues below advertisement
Logan Henderson agreed saying, "Just because it's not possible. We're paying tribute to one of our favorite bands."
OK! NEWS: ONE DIRECTION TALKS TOURING WITH BIG TIME RUSH & WANTING TO MEET WILL SMITH!
"Any real artist I think if the Beatles weren't a part of their life then I think they're a little confused," Kendall told OK!. "They helped pave the way for music and we love them."
Carlos Pena, Jr. also told OK!, "It's awesome. We have the best fans in the world. This movie, we didn't really know what to expect. but I think it turned out so amazing and I'm glad the fans are able to see it."
"Yea it's a huge honor, they Apple Records came to us and at first we were definitely like, 'Oh yeah! Lets definitely do this,' and then we were like, 'Wait a minute, this could go really well or really badly.' I'm really glad we did it. The movie's amazing and the song's came out great. It's an all around great tribute to The Beatles."
OK! NEWS: BIG TIME RUSH ROCKS OUT IN "THE CITY IS OURS" MUSIC VIDEO
Article continues below advertisement
What was James Maslaw's favorite part about filming the movie? "Being in Canada was awesome," he said. "We spent six weeks in Vancouver, which was beautiful, and almost getting to recreate some of the Beatles ideas. We watched the movie Help! and Hard Day's Night, and a lot of the stuff they did that's reflected in a couple of the songs they do in the movie."
The best part about making a film with Beatles songs is that it brings all generations together. "It's important because the younger kids need to know about the Beatles," Logan said. "That's exactly what we're trying to do."
"It's great because now the parents can sing with their kids in the car, so we like to think that we're contributing to family bonding."
You can catch the film tomorrow night on Nickelodeon at 8 p.m. ET.