NEWS
One Direction Talks Touring With Big Time Rush & Wanting To Meet Will Smith!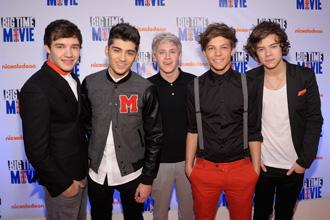 One Direction is one of the hottest new boy bands to hit the United States in a long time. The former UK X Factor contestants are currently on tour with pop royalty Big Time Rush and are sweeping the nation in the process. At Nickelodeon's Big Time Movie premiere in NYC, OK! got the chance to catch up with the guys about the tour and the upcoming Kids Choice Awards.
"It's great," Liam Payne said about the tour. "The boys Big Time Rush are actually a lot like us, kind of mischievous, like to have a lot of fun. We're very similar."
Article continues below advertisement
OK! NEWS: BIG TIME RUSH ROCKS OUT IN "THE CITY IS OURS" MUSIC VIDEO
Liam also told OK! how excited they are for the KCAs on March 31 on Nick. "Massively excited for that. With Katy Perry there as well and Will Smith, it's going to be incredible. We can't wait. It's a massive privilege so we're honored."
All of the guys agreed that Will is the number one celebrity they can't wait to meet. "There's two guys for me," Liam said. "David Beckham and Will Smith, for sure."
OK! NEWS: WILL SMITH HOSTING KIDS CHOICE AWARDS ON NICKELODEON IN MARCH!
Hopefully, they'll get to meet this year's KCA host! One thing they won't be focusing on is acting... at least for awhile. Harry Styles told OK! "You know we recorded an episode of iCarly. That was sort of the first acting stuff we've done, but it was quite easy because we were playing ourselves. I think at the moment, we just want to focus on the music side of things."
Need a 1D fix before March 31? Catch them on Monday, March 12, when they perform live on the Today show.