NEWS
'Biggest Loser' Champ Michael Ventrella's Got Milk!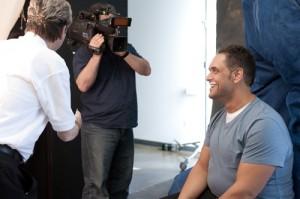 Michael Ventrella, the newest champ of NBC's The Biggest Loser, takes simple steps to win big and live well.
ALI VINCENT'S BIGGEST LOSER BLOG: IS BIGGER REALLY BETTER?
Like the past Biggest Losers before him, Michael is appearing in the National Milk Mustache "got milk?" campaign.
OK! EXCLUSIVE: THE BIGGEST LOSER DIET
His new "got milk?" ad reads, "This is big. But me, I'm small. And I'm making healthy choices, like exercising and drinking fat free milk every day. It gives me the protein and other nutrients I need to help build lean muscle and stay fit – and that winning combination is huge. got milk?"
Article continues below advertisement
For exclusive video of Michael's shoot, go to whymilk.com.