NEWS
'The Biggest Loser's' Jessica Limpert & Ramon Medeiros: We Lost 240 Pounds & Found Love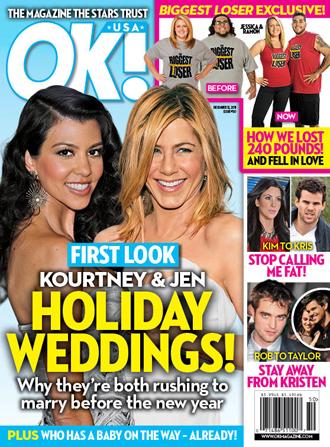 They came to the ranch overweight, discouraged and broken-hearted, but for Jessica Limpert and Ramon Medeiros, competing on The Biggest Loser helped them lose weight, regain their health and find true love. "I never believed in fate before, but I do now," Jessica tells OK! in an exclusive interview.
Of course, it wasn't an easy journey. Ramon, 27, started the show at 355 pounds suffering from diabetes, while Jessica, 26, had experienced a broken engagement that caused her weight to balloon to 286 pounds. Against all odds, their romance blossomed — despite being called out by trainer Anna Kournikova for undermining their weight-loss success by getting involved in a romance too soon.
Article continues below advertisement
But today, the pair have lost a whopping 240 pounds combined and are happily training together to wow their old friends and teammates on The Biggest Loser's Dec. 13 finale.
You look amazing. How much weight have you lost so far?
Jessica: I have lost 69 pounds. I started at 254 pounds on the show, but before that, a year ago, I weighed 286 pounds. So, in reality I'm actually down a full 100 pounds.
Can you believe you lost that much?
Jessica: No. Never in a hundred years would I think this could happen. I saw that as a huge mountain. That's why it took me so long to lose the weight because it was too big a number to contemplate. I could never get over that mountain by myself. But now I'm down 100 pounds — and I'm like, "Let's do a few more!"
Ramon, you look fantastic, too — and it's not just the weight. You also cut your hair!
Ramon: Yes, I had long, long, hair. I cut it and donated it to Locks of Love, which benefits cancer patients.
How much weight did you lose so far?
Ramon: I started at 355, and now I have lost 140 pounds total.
FOR MORE ON JESSICA AND RAMON'S WEIGHT LOSS LOVE STORY, PICK UP THIS WEEK'S ISSUE OF OK! — ON SALE EVERYWHERE NOW!