NEWS
Bill O'Reilly Calls Miley Cyrus Bong Incident 'Pathetic'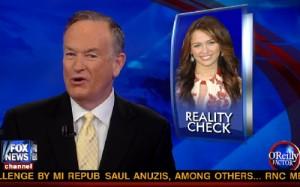 It may come as no surprise that Bill O'Reilly has something to say about the Miley Cyrus bong incident. Last night, the conservative FOX News talk show host dedicated a segment of his show, The O'Reilly Factor, to the teen queen's decision to smoke from a bong filled with salvia.
True to his nature, the sharp-tongued host held nothing back when addressing the 18-year-old star's poor decision.
Article continues below advertisement
"That was pathetic," Bill told his viewers after playing the video during the segment."Her days of being a role model are long over."
A video of Miley inhaling a substance called salvia sparked a media firestorm last Friday over the drug and the former Hannah Montana star's current state.
OK! NEWS: MILEY CYRUS' CREW TRIED & FAILED TO COVER UP BONG VIDEO
"I'm having a little bit of a bad trip," a disoriented Miley said in the video. "Is that a Liam look-alike — is that my boyfriend? Is that me tripping? Does that look like Liam at all? I want more of that s---."
Watch Bill's tirade at TMZ.