NEWS
Billy Ray Cyrus Comments on Divorce: "God Bless America?"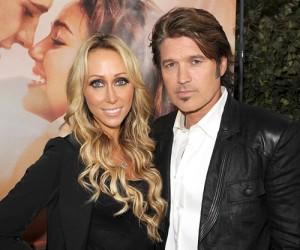 Billy Ray Cyrus sat down for an interview with radio host Woody Johnson recently and was asked about the status of his marriage to Tish Cyrus. His response? "God Bless America," before he stormed out!
OK! GALLERY: NOW SINGLE TISH CYRUS SEEKS SOLACE IN HER CHILDREN
"I have to ask you because you are a celebrity and we've all heard. Your marriage is going?" Woody asked during his WCOL's Woody & The Wake-Up Call (via PopEater).
Article continues below advertisement
"Oh man. You know what bud? Woody Johnson. Woody Johnson. God bless America, God bless our troops. Woody Johnson, look at you," Miley Cyrus' father said. "Oh I ain't mad at you. Have a good day, brother."
And as he walked out of the studio, Billy Ray was reportedly heard complaining about "how rude" it was to ask about his divorce.
OK! NEWS MILEY CYRUS' PARENTS BILLY RAY & TISH CYRUS FILING FOR DIVORCE
Woody went on his blog after the interview to comment on what happened.
"I've always liked Billy Ray Cyrus... and still do, actually, but was taken aback by his reaction to my question regarding the breakup of his marriage," he wrote. "I mean, it's not like it wasn't public knowledge, for crying out loud. If he shuts me down, fine. I respectfully moved on, but he did not."
OK! NEWS: MILEY CYRUS "PARTYING" TO COPE WITH PARENT'S DIVORCE
Miley's parents announced they were divorcing last month after 17 years of marriage.
"As you can imagine, this is a very difficult time for our family," they said in a statement. "We are trying to work through some personal matters. We appreciate your thoughts and prayers."
It seems Billy Ray still needs some space to work through it.