NEWS
Billy Ray Cyrus Says 'Hannah Montana' "Destroyed My Family"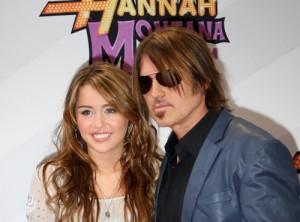 Billy Ray Cyrus is worried about his 18-year-old daughter Miley Cyrus and the state of his family, but he's placing the blame on Hannah Montana.
OK! GALLERY: MILEY CYRUS SMILES IN SWEATPANTS IN SUNNY L.A.
"It destroyed my family," Billy Ray tells GQ of his Disney show with Miley, Hannah Montana. "I'll tell you right now — the damn show destroyed my family. And I sit there and go, 'Yeah, you know what? Some gave all.' It is my motto, and guess what? I have to eat that one. I some-gave-all'd it all right. I some-gave-all'd it while everybody else was going to the bank. It's all sad."
Article continues below advertisement
And if he could take it all back, he would.
"I hate to say it, but yes, I do. Yeah. I'd take it back in a second," Billy Ray says. "For my family to be here and just be everybody okay, safe and sound and happy and normal, would have been fantastic. Heck, yeah. I'd erase it all in a second if I could."
But really, he does admit he didn't help the situation.
"I was going to work every single day knowing that my family had fallen apart, but yet I had to sit in front of that camera," he adds. "I look back and I go, How did I ever make it through that? I must be a better actor than I thought."
OK! NEWS: MILEY CYRUS GETS FIFTH TATTOO
Still, Billy Ray says he had to take the blame for Miley whenever she made headlines for her indiscretions.
"Every time something happened in Miley's career, every time the train went off the track, if you will — Vanity Fair, pole-dancing, whatever scandal it was — her people, or as they say in today's news, her handlers, every time they'd put me... 'Somebody's shooting at Miley! Put the old man up there!' Well, I took it, because I'm her daddy, and that's what daddies do," he explains. "'Okay, nail me to the cross, I'll take it....' "
Article continues below advertisement
"All those people around, they used me every time," he adds. "It became so obvious that, man, no matter what happens, they're going to put you up there and let you take the bullet."
OK! NEWS: BILLY RAY CYRUS REACTS TO SAD MILEY CYRUS BONG VIDEO
And Billy Ray is worried those "handlers" aren't helping his daughter at all.
"She's got a lot of people around her that's putting her in a great deal of danger. I know she's 18, but I still feel like as her daddy I'd like to try to help," he says. "Take care of her just a little bit, to at least get her out of danger. I want to get her sheltered from the storm. Stop the insanity just for a minute."
But while he's expressing his concern, he also wants to speak out and defend himself.
"I've never made a dime off of Miley," he says. "You got a lot of people have made percentages off of her. I'm proud to say to this day I've never made one commissioned dollar, or dime, off of my daughter."
What do you think of Billy Ray's concerns? Is he becoming the new Michael Lohan?