NEWS
Blake Shelton Disses Co-Star Adam Levine: "He's Making Really Bad Coaching Decisions"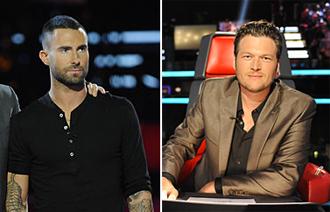 Adam Levine might have taken the judging crown last year on The Voice when his team member, Javier Colon, beat out the competition, but this year, Blake Shelton thinks Adam is far from winning.
At the NBC Summer Press Day yesterday, Blake told OK! that Adam's coaching skills are faltering.
OK! NEWS: CHRISTINA AGUILERA CALLS FORMER MOUSEKETEER TONY LUCCA "ONE DIMENSIONAL" ON THE VOICE
"Adam's winning just because he can say he won last year. I'm not saying that I am going to win this year, but I don't think that Adam is going to win this year," Blake confessed, adding that Adam's ego is destroying his chances of taking home the gold for the second season in a row.
Article continues below advertisement
"Now he's inside of his own, he thinks he knows it all, all of a sudden because he won last year, he's making really bad, really bad decisions for his team," Blake continued. "I want to go on record saying I think Adam is making really bad coaching decisions."
Whoa there, Blake! We know that Adam may not have the best line-up out of you, Christina Aguilera and Cee Lo Green, but don't you think bashing your so-called "buddy" is a little harsh?
Sadly Blake, you just voted her off. Hopefully Miranda didn't put you in the dog house. We know that's where Adam is...