NEWS
Bobby Brown Tells 'Today' He Doesn't Think Bobbi Kristina Has a Drug Problem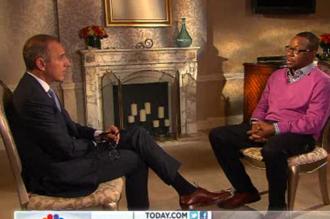 Bobby Brown appeared on the Today show with Matt Lauer for the second part of their two-day interview and addressed rumors about daughter Bobbi Kristina's drug use.
OK! NEWS: BOBBY BROWN WORRIED ABOUT BOBBI KRISTINA AND WANTS HER TO GO TO REHAB TO DEAL WITH HER GRIEF
After Bobby disclosed that he and ex-wife Whitney Houston did hard drugs together — though he wasn't the one who introduced her to them — Matt wondered if Bobby worried that Bobbi might travel down the same path, especially since several photos have surfaced allegedly depicting her smoking marijuana and using other drugs.
Article continues below advertisement
"I will always be worried about that," Bobby said. Then, after a long pause, he disclosed that he doesn't believe Bobbi is using right now, and that she's a "strong girl" who was raised really well.
"I know what she is actually doing," he said. "I think people are, you know, making assumptions of what my daughter is and how strong she is. People tend to want to control strong-willed people. And that's what I see. I am her father. She talks to me about everything."
OK! NEWS: BOBBY BROWN GETS ARRESTED FOR A DUI
As far as Bobby's own sobriety status, he says he hasn't touched a narcotic in seven years but will continue to have a cocktail every now and again, as evidenced by his latest DUI in March.
"I'm living the life that I want to live," he said unapologetically. "(The doubters) can doubt all they want."
Check out the video and tell us what you think. Is Bobby out of touch or do you believe Bobbi Kristina is on the right path?