NEWS
Brad & Angelina Dig Deep, Give $1 Million to Haiti Earthquake Relief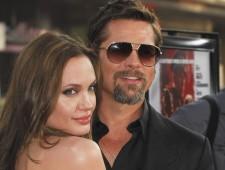 Brad Pitt and Angelina Jolie put their money where their mouth is on Wednesday, not only issuing a statement of support for the people of Haiti, who are in a state of emergency following Tuesday's 7.0 earthquake, but also digging deep into their pockets to offer $1 million to the relief cause.
The Jolie-Pitt Foundation, which the couple created to help people in need around the world, has pledged the six-figure donation to Doctors Without Borders, who are working to provide shelter and medical aid to the masses of people left homeless and injured in the quake's wake.
Article continues below advertisement
Earlier on Wednesday, the couple said in a statement: "We will work closely with our good friend Wyclef Jean to support the humanitarian efforts on the island and help those who have been injured and left without homes and shelter."
Angelina and Brad have visited the island in recent years to assist the former Fugees' charity, Yele Haiti.